For those read­ers tuned into these things, clear evid­ence emerged this week of the 'end of days' and our impend­ing anni­hil­a­tion – cul­tur­ally at least.
Simply put, Twilight: Eclipse is play­ing around three times as many ses­sions in Wellington cinemas this school hol­i­days as Toy Story 3, des­pite the lat­ter being demon­strably super­i­or fare in every con­ceiv­able way. It was pretty depress­ing to check the papers last week to see that TS3 was only get­ting one Embassy ses­sion (in the mat­inée ghetto) as opposed to Eclipse's four. It's enough to make one wish for a friendly wall to bang one's head upon.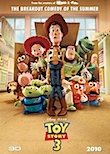 Is Toy Story 3 that good? Yes, it is. In fact, I would ven­ture the slightly dan­ger­ous opin­ion that if there's a film in the Film Festival this year as good as Toy Story 3 then I will be very, very surprised.
The last couple of Pixar films reviewed in these pages have been gently chided for fall­ing away in the third act – fail­ing to main­tain their geni­us right through to the end. No such prob­lems occur with TS3. It stays on course, con­tinu­ing to illu­min­ate char­ac­ter and action with deft, sur­pris­ing and eer­ily appro­pri­ate plot turns.