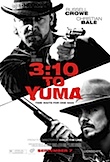 The for­tunes of the Western rise with the tide of American cinema. During the 70's indie renais­sance we got rugged clas­sics like The Great Northfield Minnesota Raid and The Long Riders, then in the 80's and 90's Clint Eastwood re-examined his own myth­ic West in Pale Rider and Unforgiven . (The less said about Young Guns 1 and 2 the better.)
The past 12 months have offered us two Westerns that are as good as any of the last 30 years: The Assassination of Jesse James and James Mangold's homage to the clas­sic 3:10 to Yuma which opened in Wellington last week.
Yuma is a story (by Elmore Leonard) with great bones: poor, hon­est, ranch­er Christian Bale is suf­fer­ing because of the drought and for $200 takes on the des­per­ate task of escort­ing cap­tured out­law Russell Crowe to Contention City, where he will catch the eponym­ous train to the gallows.
But Crowe's gang are on the way to lib­er­ate him and Bale's sup­port is dwind­ling to noth­ing. The ten­sion rises as the clock ticks towards three o'clock.