It's extremely quiet in terms of new releases in cinemas at the moment. The major inter­na­tion­al dis­trib­ut­ors are keep­ing well clear of the over­whelm­ing force that will be The Dark Knight Rises and the indies know that all the art­house money is going into film fest­iv­al tickets.
This year – for a change – I'm not book­ing in advance for any­thing. There's so much good­ness in the pro­gramme – and my faith in serendip­ity needs a bit of a boost – that I'll just see what hap­pens to be play­ing whenev­er I get a spare moment and then give it a go. With well over 150 indi­vidu­al films and short pro­grammes to choose from I'm sure there'll always be some­thing on that's going to chal­lenge and enlight­en me.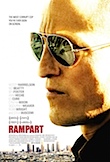 It helps that, thanks to fest­iv­al man­age­ment, I've already seen ten of what's on offer – ten films that might be easy to miss when flick­ing from one end of the 80 page book to the oth­er. In Rampart, Woody Harrelson finally lays to rest the ghosts of Cheers with a lacer­at­ing per­form­ance as an LA cop who's as tor­men­ted and cor­rup­ted as Harvey Keitel's legendary Bad Lieutenant. Collaborating once again with writer-director Oren Moverman (the bril­liant and under-seen The Messenger), Harrelson plays a char­ac­ter so awful that 108 minutes later you are amazed to find you actu­ally care about him.