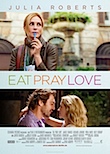 Eat Pray Love is what they used to call, in the old days, a "women's picture" and the advertisers who have paid good money to annoy audiences before the film make sure you know it: feminine hygiene products. A chromosomal anomaly on my part means that I'm not in the target market for this film (or the bestselling book that inspired it) but I'll give it a go. Manfully.
Julia Roberts plays Liz, a phenomenally bad playwright and (supposedly) successful author who has a crisis and ends her (supposedly) unsatisfactory marriage to bewildered and hurt Billy Crudup. Never having lived without a man in her life she goes straight into a relationship with handsome and spiritual young actor James Franco.
Still unhappy, and a source of enormous frustration to her ethnically diverse best friend Viola Davis (Doubt), she uses her share of the Crudup divorce to take a year off and find herself — Italy for the food, India for the guru and Bali for Javier Bardem.