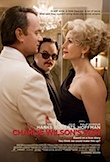 The Soviet Union invaded Afghanistan on Christmas Day in 1979. They remained in the coun­try, bru­tally sup­press­ing the loc­al res­ist­ance, until they were forced to leave in 1989: almost ten years of occu­pa­tion that des­troyed one coun­try and ruined anoth­er. One side of the story was told in the recent film The Kite Runner: in it we saw a vibrant and cos­mo­pol­it­an cul­ture bombed back to the stone age by the Soviets and their equally one-eyed Taliban replacements.
For peacen­iks like myself, the Soviet aggres­sion was an incon­veni­ent fact, dif­fi­cult to acknow­ledge dur­ing our efforts to pre­vent nuc­le­ar anni­hil­a­tion at the hands of war-mongerers like Ronald Reagan. While we were march­ing for peace and dis­arm­a­ment, play­boy Congressman Charlie Wilson (Tom Hanks) was secretly fund­ing the Mujahideen insur­gents to the tune of hun­dreds of mil­lions of dol­lars, provid­ing them with the weapons that would bring down the Russians.
With the help of a reneg­ade CIA-man (won­der­ful Philip Seymour Hoffman), a Texan social­ite (Julia Roberts), an Israeli spy (Ken Stott) and President Zia, dic­tat­or of Pakistan (Om Puri), Wilson per­suaded, cajoled, threatened and coerced Congress to pay for all this – without them even know­ing what it was for. Aaron Sorkin's script is razor-sharp, often very funny, and does a great job of not spelling out all the les­sons we should be learn­ing. Charlie Wilson's War may have brought about the end of the Cold War but it also opened up Afghanistan to the bru­tal fun­da­ment­al­ism of the Taliban, increased the influ­ence of the Saudis in the region and indir­ectly led to the Iraqi poo-fight we are in now. As Wilson says, it's all about the endgame.
How strange it is that two of my favour­ite films of the past twelve months should be about coming-to-terms with an unwanted preg­nancy. Knocked Up, last year, was a broad com­edy with a good heart and this year Jason Reitman's Juno is even bet­ter: full of unex­pec­ted sub­tlety and nuance from a great cast work­ing with a tre­mend­ous script from gif­ted new­comer Diablo Cody.
Like last year's Hard Candy, Ellen Page plays a pre­co­cious teen­ager only this time she is not a hom­icid­al revenge mani­ac. At only 16, she finds her­self preg­nant to the unlikely Paulie Bleeker (Superbad's Michael Cera) and takes it upon her­self to find appro­pri­ate par­ents for the little sea mon­key grow­ing inside her. The rich couple who sign on (Jennifer Garner and Jason Bateman) look per­fect, but looks can be deceiv­ing. Juno is an easy film to love and I can see people going back to it again and again.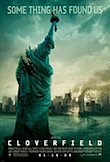 If a film has a good heart you can for­give its flaws, but what to do when it has no heart at all? Cloverfield is a modern-day retell­ing of a clas­sic Hollywood mon­ster movie and once again New York gets a ter­rible pound­ing. A group of self-absorbed yup­pies are caught in the carnage and try to escape but man­age to film the entire thing on their cam­cord­er. Yeah right. Technically admir­able, Cloverfield clev­erly main­tains the home video con­ceit but shaky-cam motion sick­ness got to me in the end.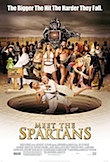 Meet the Spartans is all flaw and no redeem­ing fea­ture: anoth­er miss and miss spoof of last year's hits. Soft tar­gets include "Ugly Betty", "American Idol", Paris Hilton (yawn) and 300. The Spartans were gay, appar­ently. And not in a good way.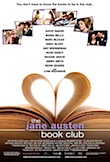 The Jane Austen Book Club is a well-intentioned adapt­a­tion of the pop­u­lar nov­el about a group of women (and one dude) who meet once a month to talk about their favour­ite author. Writer and dir­ect­or Robin Swicord has assembled a fine ensemble cast includ­ing Maria Bello, Kathy Baker, Amy Brenneman and Jimmy Smits but too often they are rep­res­ent­at­ives of people rather than people them­selves and the film is un-persusasive. Actually, that's not entirely true: the tent­at­ive rela­tion­ship between Bello's inde­pend­ent hound breed­er and Hugh Dancy's shy IT guru works nicely (for the most part).
Printed in Wellington's Capital Times on Wednesday 30 January, 2008.
Notes on screen­ing con­di­tions: Charlie Wilson's War screened at a Reading Cinemas print check, 9am last Tuesday morn­ing (thanks, Hadyn), sit­ting in the com­fy Gold Lounge chairs; Juno screened on Sunday after­noon in Penthouse 1 (the ori­gin­al). It's nice to see the Penthouse finally repla­cing the seats in Cinema 1 but per­haps they could think about repla­cing the sound sys­tem with some­thing that wasn't salvaged from a tran­sist­or radio. Meet the Spartans was seen at a busy Saturday mat­inée at Readings where the brain-dead teen­agers around me hooted at every stu­pid, lame, joke. Cloverfield was in Readings digit­al cinema (Cinema 5) and looked sen­sa­tion­al. Digital really is the future and it can­'t come soon enough. I shud­der to think how ill I might have felt if I'd seen Cloverfield from a wobbly, scratchy print. The Jane Austen Book Club was the second part of a Penthouse double-feature on Sunday, this time in Cinema 3 (the new one) which is splendid.