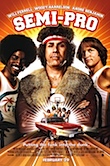 When the current Writer-in-Residence at Victoria University's Institute of Modern Letters suggested I take another look at my negative review of Blades of Glory, I made a promise that (while I couldn't bring myself to watch that turkey again) I would approach the next Will Ferrell with a consciously open mind. Sadly, with Semi-Pro (a cross between Anchorman and Talladega Nights featuring the strengths of neither and the rampant self-indulgence of both), I heard no laughter, only the sound of the bottom of the barrel being scraped. Recently New Line Cinema ended it's life as an independent producer and I'd like to think Semi-Pro was responsible. It's no less than it deserves.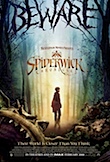 And, at risk of sounding like a total film-wanker I'm going to allocate what strengths The Spiderwick Chronicles has to the presence of the great John Sayles as co-writer. Sayles' independent work includes classics like The Brother From Another Planet and Passion Fish but makes a living doing (mostly uncredited) punch-up jobs on big budget screenplays. I was growing increasingly frustrated with the plodding story-telling, and the over-reliance on the well-designed digi-creatures, before a great moment at the climax restored my faith that a proper screenwriter was on board after all.
Three children have to leave New York when their parents split up and live in the big, old, abandoned house in the country that their crazy Aunt lived in. Freddie Highmore, so ubiquitous in these sorts of films that he even does double-duty in this one, plays bad-boy Jared who discovers an old book in the attic, reads the note warning him not to open it, ignores it, and unleashes a world of goblins, fairies and ogres that are invisible to normal people. Nothing new to report there, then, but every generation seems to need a new version just for them.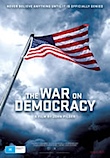 I've been a John Pilger-sceptic for a while, not helped by his bombastic and unpleasant behaviour to local interviewers, but his first independent documentary for cinema, The War on Democracy, eventually won me over. It makes an excellent companion to Helen Smyth's Cuba-doc ¿La Verdad? as it provides the kind of encyclopaedic background to the United States' nefarious engagement with Latin America that she could only hint at. Starting in Hugo Chavez's Venezuela, Pilger uses the failed coup in 2002 as a springboard to show how, for more than 50 years, the US has installed or deposed governments across the continent in order to further its own political and financial aims. It's not great cinema – that's not Pilger's bag – but it is essential viewing.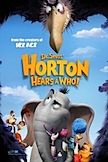 Horton Hears a Who! may well feature the most profound moment in cinema this year. As the tiny citizens of Who-ville (a bustling and happy community living on a tiny speck, itself sitting on a dandelion being blown around by fate) realise that in order to be saved they first must be heard, they bang drums, blow trumpets and chant "We are here!" Like the forgotten poor in Pilger's Caracas barrio or the displaced in Darfur, the power to proclaim our existence in the face of ignorant or malevolent authority isn't just a right, it's an obligation, and I'm certain that the good Dr. Seuss wouldn't have missed the connection.
Big-hearted elephant Horton (Jim Carrey) rescues the speck when his enormous ears pick up the tiny voice of the Who-ville Mayor (Steve Carell) and he realises that he has a mission. In the face of community standards ruthlessly enforced by Carol Burnett's Kangaroo, Horton is hounded out of the jungle but he never gives up. So, not only does Horton not suck like all recent Seuss adaptations, it bristles with energy, humour and panache. Choice!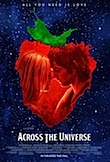 Like the forthcoming Dylan portrait I'm Not There, Across the Universe feels like the Baby Boomers' last attempt to claim the 60s as, you know, important, meaningful, unique. The music of The Beatles tells the story of star-crossed lovers Lucy (Evan Rachel Wood) and Jude (Jim Sturgess) as they try and keep a relationship alive across that tumultuous decade. I emotionally disengaged the moment I realised that Sturgess sounded like Robbie Williams instead of John Lennon but was never less than entertained. A trip, man.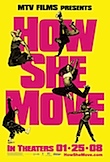 How She Move is a Canadian version of films like Step Up 2 The Streets, Stomp The Yard and countless others. Featuring all the usual elements of the genre: underground urban dance crews; a kid has to get out of the ghetto via a scholarship; she needs the prize money; parents just don't understand, etc. It's as if the producers couldn't decide which banal clichés to leave out and gave up, stuffing the finished film to breaking point. I've grown to really dislike the dancing in these films, too.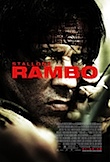 Finally, a late word on behalf of Rambo (which missed the cut during the last few weeks). By making his villains Burmese human-rights violators and his victims innocent aid workers, director Sylvester Stallone stacks the deck effectively and, despite looking completely bizarre, he infuses his taciturn killing-machine with the occasional moist-eyed moment of humanity amid the flying limbs. A respectable end to what had become a cartoon franchise.
Printed in Wellington's Capital Times on Wednesday 16 April, 2008.
Notes on screening conditions: Semi-Pro was at a sparsely attended public matinée at Readings. The Spiderwick Chronicles was at the Empire in Island Bay and the review was in no way influenced by the lovely free coffee they made me just as the trailers were playing. The War on Democracy was a DVD screener provided by Hopscotch (via GT) and the film is currently only playing at the Lighthouse in Petone. Horton Hears a Who! was also screened at the Empire where I was the only unattended adult present. Across the Universe was screened at the Paramount's World Cinema Showcase. How She Move was an exceedingly sparsely attended matinée at Readings and Rambo was another Readings week day matinée, a couple of weeks ago.