If ali­ens have been look­ing down on Earth, watch­ing us with love and amuse­ment over the last few mil­lion years (as so many movies have told us they are), they will surely be very wor­ried about recent devel­op­ments in our cul­ture and what it all means for us as a spe­cies. I know I am.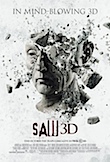 On the sur­face, the cine­mat­ic trend towards "tor­ture porn" films like Hostel and Saw – and their even more dis­mal cous­in The Collector – betrays a weird human human abil­ity to take pleas­ure in the extreme pain of oth­ers that is at odds with how we most of us actu­ally live our lives. I'm curi­ous. What does it all mean?
This was the ques­tion I found myself ask­ing as I watched Kevin Greutart's Saw VII on Saturday after­noon (I say "watched" as, per usu­al, I found myself star­ing at the cinema EXIT signs dur­ing the more grue­some pas­sages). On closer inspec­tion it's clear that what we have here is an Old Testament-style mor­al­ity tale, updated for the attention-deficit, sensation-seeking, mod­ern generation.