Keira Knightley may only be 23 but (along with Daniel Craig and Simon Pegg) she's been giv­en the unen­vi­able job of sav­ing the British film industry, a chal­len­ging task for someone with tal­ent but a hard road for a young woman still learn­ing a craft for which she often seems ill-suited. Next week we will review the mid-budget cos­tume drama The Duchess but right now she is head­lining anoth­er WWII romance (c.f. Atonement), John Maybury's The Edge of Love.
Knightley plays Vera Phillips, a young Welsh girl carving out a liv­ing enter­tain­ing the troops in the under­ground bomb shel­ters of burnt out London. In an awfully clunky screen­writ­ing moment she sees a famil­i­ar face across a crowded pub and calls out "Dylan? Dylan Thomas?" and is reunited with her child­hood sweet­heart. After plenty of flirt­ing, the soon-to-be great poet Thomas (Matthew Rhys) intro­duces her to his wife Caitlin (Sienna Miller) and a firm friend­ship begins, a friend­ship that veers in the dir­ec­tion of a (hin­ted at) mén­age à trois and ends (with the help of Phillips' shell-shocked hus­band Cillian Murphy) in a hail of mis­dir­ec­ted bul­lets on a pic­tur­esque Welsh cliff top.
Miller's notori­ous tabloid exist­ence has a tend­ency to over­shad­ow her day job, which is a shame as she is very good here and she car­ries almost all the emo­tion­al weight of a film that, frankly, needs all the help it can get. Rhys is fine (and reads the Thomas poetry like he's chan­nel­ling Richard Burton) but Knightley struggles, although she has her moments.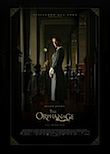 In The Orphanage, a woman (Belén Rueda) and her hus­band (Fernando Cayo) decide to buy the decay­ing old goth­ic orphan­age where she grew up so they can live there with their adop­ted, HIV-positive, young son (Roger Princep) plus his ima­gin­ary friends. Asking for trouble? You bet. The boy soon dis­ap­pears, per­haps into a cave beneath the house, and the dis­traught moth­er has to solve the mys­tery of the cursed house before she can find him again.
I would have been con­sid­er­ably more effected by this film if the first half hadn't been out of focus (and if the pro­jec­tion­ist hadn't for­got­ten about the reel change or needed to be told to focus the second half) but once we'd got all that sor­ted out the moody atmo­spher­ics (greatly aided by an effect­ive sur­round sound design and the excel­lent Paramount sound sys­tem) push all the right but­tons. Produced by Guilermo del Toro (Pan's Labyrinth), The Orphanage is styl­ish hor­ror with a heart. I much prefer this sort of thing to the Japanese pro­duc­tion line ver­sions we see so often.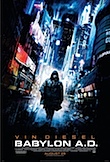 It's really say­ing some­thing when a dir­ect­or dis­owns a Vin Diesel film for not liv­ing up to his vis­ion but this is what Mathieu Kassovitz has done with Babylon A.D. Apparently studio-dictated cuts have turned his subtle and sens­it­ive polit­ic­al and mor­al allegory into a bloodthirsty shoot 'em up. As they say­ing goes, yeah right. Freely rip­ping off dozens of hit films (from Escape from New York to Blade Runner, The Matrix and Resident Evil), the cuts have rendered what might have been a campy clas­sic into inco­her­ence but it's not un-entertaining.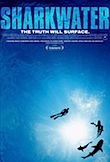 My favour­ite cine­mat­ic shark is Bruce from Finding Nemo (played by Barry Humphries), a mis­un­der­stood killing machine with aban­don­ment issues. If he'd seen Rob Stewart's ener­vat­ing doc­u­ment­ary Sharkwater he would know that he's not a killer at all – more people die each year as a res­ult of Coke machine mis­ad­ven­ture – and that he is in far great­er per­il from us than the oth­er way around.
In fact the whole film owes a lot to Pixar's Nemo, often recre­at­ing fam­ous images from that film and, if it wasn't likely to trau­mat­ise them, I'd recom­mend every child who ever saw Nemo be forced to sit and watch it so they might turn into pas­sion­ate eco-terrorists when they grow up.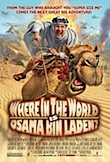 As agit-prop doco makers go I think I prefer Morgan Spurlock to Michael Moore. Spurlock (who sprang to fame with the McDonalds' exposé Super Size Me in 2004) inter­views people without set­ting them up to look stu­pid or venal and his every­man open-ness gives the impres­sion that he is genu­inely curi­ous rather than embittered and cer­tain. In Where in the World is Osama Bin Laden? Spurlock is spurred by the his long- suf­fer­ing girl­friend Alex's preg­nancy to go the middle east and find out why they want to kill us all. And if he finds Osama Bin Laden in the pro­cess, all well and good. I could have done with less of the cheesy video game ana­lys­is of com­plex glob­al polit­ics but when Spurlock goes out of his way to meet ordin­ary people on the streets of Jordan, Israel, the West Bank, Pakistan and Afghanistan you can't help but feel a little bit enlightened and a little bit heartened.
Printed in Wellington's Capital Times on Wednesday 8 October, 2008.
Nothing of note to report regard­ing screen­ing con­di­tions except the prob­lems with The Orphanage that have already been repor­ted above.
UPDATE: A friend wrote to me after read­ing the Sharkwater review in the CT:
"I don't think much of your Sharkwater review. It really does­n't tell any­one what the film is about and why people should see it, and secondly you totally belittle the issue by com­par­ing it to a kids car­toon! It's the most dis­turb­ing film I've seen all year, and as you know I've seen quite a lot. Even now I feel utterly guilty eat­ing fish, though it is the only anim­al flesh I can­'t seem to give up. At least the Lumiere review­er urged people to boy­cott the many Wellington res­taur­ants that serve shark fin soup. The dir­ect­or is slightly irrit­at­ing I admit, but the con­tent is cru­cial… you can­'t joke about films like this, unless it's garbage (like Where in the World is OBL for example…).

In case you did­n't get it the first time read this: http://www.panda.org/index.cfm?uNewsID=146062
Glad I got that off my chest…"