It's been a tough old week to be a cinephile. Firstly, poet of the dark interior of human existence Ingmar Bergman finally gives up the ghost, then I get to watch a dismal romantic comedy starring Mandy Moore. Next, Michelangelo Antonioni, cinematic architect of the spaces between people, himself passes over and I get to watch another dismal romantic comedy starring Mandy Moore. If it hadn't been for The Last Picture Show at the Festival it might have been a depressing week indeed.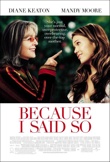 The Mandy Moore rom-com double-feature features Because I Said So and License To Wed, both directed by TV hacks who, when furnished with decent scripts, can turn out creditable work (Michael Lehmann made Heathers and The Truth About Cats and Dogs) but that isn't the case here.
In Because I Said So Mandy Moore plays a caterer and the youngest daughter of pushy single mom Diane Keaton. She's the only daughter not yet married and, of course, the whole family frets about her finding the right man before it's too late (though she's only about 22). Secretly Keaton places an ad at an Internet dating site hoping to screen candidates on Moore's behalf; meanwhile Moore actually falls for a musician with a tattoo and comedy misunderstandings obviously ensue.
I found it impossible to dredge up any enthusiasm for this film but the handful of middle-aged women I shared the screening with laughed like drains so you might want to take their opinion over mine if you are so inclined.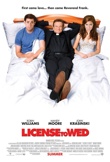 In License To Wed Moore plays a florist who has just got engaged to John Krasinsky (Tim from the American version of The Office). The church wedding she has always dreamed of comes with strings attached — a compulsory marriage preparation course taken by Reverend Frank played by Robin Williams. There are two kinds of Robin Williams film nowadays: the serious kind and the crap kind and this is the latter. Krasinsky is quite watchable though and I suspect we'll be seeing a lot more of him over the next wee while — he's like a young Tom Hanks with a pair of comedy ears on.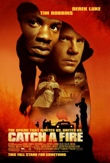 Returning from the World Cinema Showcase earlier this year is the splendid Apartheid-era political thriller Catch a Fire starring Tim Robbins and (one of my favourite actors) Derek Luke from Antwone Fisher. The film is set in the North Eastern Coal Fields of South Africa in 1980 where all communities live in the shadow of the huge Secunda Oil Refinery. Luke plays apolitical refinery worker Patrick Chamusso who becomes politicised after being accused and tortured over a terrorist attack at the refinery.
He travels to Mozambique to join the ANC and plot the destruction of the refinery, and the overthrow of the hated apartheid system. What he doesn't realise is that the moral corruption of apartheid reflects itself in real world corruption everywhere and that his movements have been watched by policeman Nic Vos (Robbins).
Catch a Fire is a testament to the many sacrifices of those years disguised as a fast-moving thriller and it works on both levels. Written by Shawn Slovo, herself the daughter of white ANC freedom fighters, the film also takes a sensitive approach (in the spirit of Truth and Reconciliation) to the white side of the story, showing the spiritual damage done to them by apartheid. You won't find many more satisfying (or more beautifully photographed) films this year.
Printed in Wellington's Capital Times on Wednesday, 8 August, 2007.