We're at that time of year when the big stu­di­os role out block­buster after block­buster so that Americans look­ing to escape the stifling heat will choose to find com­fort in cinema air-conditioning and we in New Zealand hope that the cinemas are warm­er than our lounge rooms.
Apart from the Spielberg/Abrams col­lab­or­a­tion Super 8 (next week, folks) all of the big­gies this sea­son are either sequels or com­ic book adapt­a­tions, demon­strat­ing that des­pite all indic­a­tions the bot­tom of the bar­rel hasn't quite been scraped yet.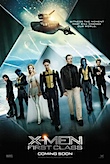 After three X‑Men films and a hor­rendous Wolverine spin-off Marvel/Fox have gone back to the begin­ning in the now tra­di­tion­al fran­chise re-boot strategy per­fec­ted by Batman and stuffed up com­pletely by Bryan Singer with Superman Returns.
It's 1962 and the Cold War is heat­ing up. In Oxford a smarmy super-intelligent booze-hound (James McAvoy) is scor­ing with girls thanks to his abil­ity to read minds. The CIA asks him for some help unrav­el­ling the mys­tery of some unex­plained phe­nom­ena in Las Vegas and is per­turbed to dis­cov­er they get his freaky mind con­trol powers as well as his ana­lys­is – and his "sis­ter" Raven (Jennifer Lawrence from Winter's Bone) who has the abil­ity to change shape at will.