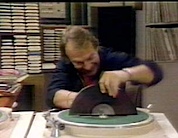 When I was sixteen or so, I was called in to the Careers' Teacher's office (next door to the woodwork room) for my one and only "careers" meeting. Mr Farquhar reminisced briefly about a couple of former pupils who were good enough to represent Essex at cricket and Arsenal at football, as if he had anything to do with either achievement.
He asked me what I wanted to do. "I want to be a disc jockey on the radio, sir," I said. "You want what?" he replied. "I want to be a disc jockey on the radio. I already volunteer at the Newham General hospital radio station. And that was how Mike Read started. Lots of people who are on the radio started that way, sir."
Slightly bemused, he said "Wouldn't you be better off trying something a little more … realistic?" I told him I'd pretty well thought it all out and I knew how I could go about it. At the time I was devouring books on radio and even reading Billboard to try and find out more about the business I wanted to be in. "WKRP in Cincinatti" didn't screen in England but if it did I would have been video-ing it every week and playing it back frame by frame.
"Look, you seem like quite a bright young lad," said Mr Farquhar. "Take these pamphlets away with you and have a look at them. They're for a Management Trainee Scheme at London Transport and it obviously won't suit everyone here but you could do a lot worse." I said "thank you" and walked out and that was the extent of my vocational guidance at school.
Two years later I was in New Zealand, broadcasting several times a week from the Kelburn studios of Radio Active. Three years after that I was working for ZMFM on Victoria Street, pulling the midnight till dawn shift five nights a week. I was a professional DJ on the radio, just as I said I would be. But after that, radio and I parted company (commercial radio, repetitive promotions and mindless playlists will do that to you) and I was spending more of my time hanging out with actors, writers and directors rather than alone in a room with a pile of records.
I've always wanted to go back to it, and I've always believed that it was the one thing I could safely say I was really good at. But I wanted to do it on my terms, for fun. I got the chance tonight thanks to VBC who have offered a weekly Monday night slot to the Wellingtonista and my name popped up on the roster. If you were listening, I apologise for my only passing acquaintance with the English language (there was a lot going on) but I hope you enjoyed the music.
My attempt at recording the stream failed, which is a blessing in disguise, but I have added the playlist here so you know what you missed.
I'm hooked on radio again. I want to build a studio here in the home office and make radio for people and thanks to the Internet and podcasts (and inspired by the likes of Jesse Thorn at The Sound of Young America) it may actually be possible. In the meantime, I'll crop up on the Wellingtonista show every now and then, slowly getting used to the slightly eccentric VBC technology, getting my fix.
Playlist after the jump.
Earl van Dyke — 6 by 6 (my old Woodside Radio theme tune, rediscovered thanks to the iTunes Music Store)
Willie Nelson — Just Dropped In (To See What Condition My Condition Is In)
Field Music — A House is Not a Home
Wall of Voodoo — Mexican Radio (original vinyl, a student radio classic)
The Divine Comedy — Everybody Knows (Except You)
ZZ Hill — Gimme Gimme (Northern Soul stomper)
Mohammed Rafi — Jaan Pehechaan Ho (Bollywood hit from the Ghost World soundtrack)
Paul Kelly & The Stormwater Boys — Stumbling Block (at this point I was so stressed I couldn't even think of the word bluegrass)
Sufjan Stevens — John Wayne Gacy, Jr.
Netherworld Dancing Toys — NZ Love Song (rare 7″ vinyl b‑side)
Nellie McKay — Ding Dong
Antje Duvekot — Dandelion
The Puppini Sisters — Wuthering Heights
Helen Reddy — I am Woman
Percy Faith — The Virginian
Right, Left & Centre — Don't Go (protest song from 1984 featuring Don McGlashan, Chris Knox and Frank Stark! It worked, the All Blacks didn't go to South Africa that year)
Kimya Dawson — So Nice, So Smart (from the

Juno

soundtrack)
The Dresden Dolls — My Alcoholic Friends
Tom Russell — Tonight We Ride
Syreeta — Harmour Love
Bernthøler — My Suitor
Heino — Carnival in Rio
Mark Jonathan Dennis — Star Wars Cantina (to the tune of Copacabana)
Dwight Yoakam — Little Ways
Cotton Mather — Password
Robert Plant & Alison Krauss — Please Read the Letter (a bit too popular for VBC, I think)
Nick Lowe — Lately I've Let Things Slide
Limmie and the Family Cookin' — (You Can Do) Magic
Doris Svensson — Did You Give The World Some Love Today, Baby?
Putty In Her Hands — NZ Music (featuring Charlotte Yates and Christine Jeffs, whose new film

Sunshine Cleaning

premiered at Sundance last week and stars Emily Blunt and Amy Adams)
Phew.
It's funny. I haven't DJ'd like that for more than 15 years but I still have nightmares about it. They're like the ones actors have about being caught on stage and not knowing the lines (or even the play). I dream that the record is finishing and I haven't cued the next one up yet — and people keep distracting me, and then I have to talk while I'm cueing up the song and I'm padding furiously with nothing to say. Awful dreams — still have them to this day.