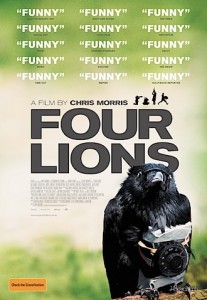 Somebody once said that com­edy is just tragedy plus time and Four Lions, a wicked, bit­ter and hil­ari­ous new com­edy by Chris Morris, tests that max­im to break­ing point (and for some of you, bey­ond it).
Back in the 90s, Morris was respons­ible for "Brass Eye", a mock cur­rent affairs series that conned gull­ible celebrit­ies and politi­cians into (for example) appear­ing in advert­ise­ments warn­ing the nation against the new super drug 'Cake'. Fearless and right­eous in equal meas­ure, he has made his first fea­ture film and it dares to try and make us laugh at the first world's cur­rent bogey­man, Islamo-terrorism, spe­cific­ally the homegrown kind which led to the 2005 London bus and tube bombings.
In Sheffield, South Yorkshire, a group of wildly enthu­si­ast­ic but incom­pet­ent jihadists (played superbly by Riz Ahmed, Kayvan Novak, Arsher Ali, Adeel Akhtar and Nigel Lindsay) would be mak­ing a stand if only they could stop bick­er­ing. A trip to a Pakistani train­ing camp, bomb mak­ing classes, farewell videos and a trip to the London Marathon are all dis­asters but Four Lions is only 98% farce – there's some heart in there too.