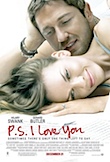 Hilary Swank's new twin-hanky romance P.S., I Love You is a remark­able achieve­ment. In all my years of cinema-going I don't think I have ever seen a film get more wrong. From the clunky premise to the ghastly cos­tume design; through awk­ward reverses in tone plus no small amount of self-indulgence on the part of Swank; it is as if every­one involved (when faced with a choice between the right way and the wrong way) simply flipped a coin and it came up "wrong" every time.
Swank plays New York wid­ow Holly Kennedy, whose Irish hus­band Gerry (300's Gerard Butler) dies of a brain tumour fol­low­ing a scene demon­strat­ing how power­ful and tem­pes­tu­ous their romance is. Shortly after the wake, Holly starts receiv­ing let­ters from Gerry, writ­ten before he died in order to coach her through the grief and help her start again. As if.
One of the let­ters includes tick­ets to Ireland for Holly and her best friends so she can revis­it the scene of their first meet­ing (prompt­ing an intol­er­ably banal flash­back scene). Meanwhile sup­port­ing cast Gina Gershon and Lisa Kudrow can enjoy the nat­ives tooraloo-ing in that way that only the Hollywood Irish can.