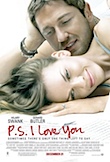 Hilary Swank's new twin-hanky romance P.S., I Love You is a remark­able achieve­ment. In all my years of cinema-going I don't think I have ever seen a film get more wrong. From the clunky premise to the ghastly cos­tume design; through awk­ward reverses in tone plus no small amount of self-indulgence on the part of Swank; it is as if every­one involved (when faced with a choice between the right way and the wrong way) simply flipped a coin and it came up "wrong" every time.
Swank plays New York wid­ow Holly Kennedy, whose Irish hus­band Gerry (300's Gerard Butler) dies of a brain tumour fol­low­ing a scene demon­strat­ing how power­ful and tem­pes­tu­ous their romance is. Shortly after the wake, Holly starts receiv­ing let­ters from Gerry, writ­ten before he died in order to coach her through the grief and help her start again. As if.
One of the let­ters includes tick­ets to Ireland for Holly and her best friends so she can revis­it the scene of their first meet­ing (prompt­ing an intol­er­ably banal flash­back scene). Meanwhile sup­port­ing cast Gina Gershon and Lisa Kudrow can enjoy the nat­ives tooraloo-ing in that way that only the Hollywood Irish can.
Among all the oth­er crimes com­mit­ted by P.S., I Love You they cast won­der­ful musi­cians Harry Connick Jr. and Nellie McKay and then don't let them sing! But they make sure that Swank and Butler get to warble their way through a karaōke scene or two instead. Gah! Wrong-headed wrongy wrong wrong­ness. From Wrongville.

The French nation­al theatre is called the Comédie-Française (which gives us a fair idea of what the French like to see on stage) and France's pre-eminent play­wright is the legendary sat­ir­ist and far­ceur Molière who reformed and trans­formed French theatre dur­ing the late 17th cen­tury. Molière now gets the Shakespeare in Love treat­ment with a glossy biop­ic spec­u­lat­ing about a miss­ing peri­od in the playwright's life – in 1645 his com­pany became bank­rupt and Molière was thrown in jail. Mysteriously, his debts were paid and he was forced to tour the provinces for 12 years before return­ing to Paris and the pat­ron­age of Louis XIV.
In Laurent Tirard's film Molière (Romain Duris) is res­cued by a wealthy busi­ness­man (Fabrice Luchini) who wishes to be coached in the ways of the theatre in order to woo the beau­ti­ful but arrog­ant Célimène (Swimming Pool's Ludovine Sagnier). The businessman's wife (Laura Morante) is not to know, of course, so Molière must mas­quer­ade as a priest provid­ing spir­itu­al train­ing to the fam­ily. It's a clas­sic farce set-up and we are asked to believe, some­what fanci­fully, that this situ­ation is the light-bulb moment that trans­forms Molière's work and, thus, French cul­ture forever.
Molière is a pass­able enter­tain­ment if you are unfa­mil­i­ar with the playwright's work but if you get the ref­er­ences you may find it more sat­is­fy­ing than I did. Duris seems mis­cast as Molière: alto­geth­er too intense.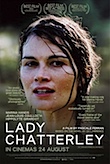 D. H. Lawrence must have really liked the story of Lady Chatterley's Lover as he wrote it twice, the second time with the improb­able title "John Thomas and Lady Jane". It's this second ver­sion that Pascale Ferran has adap­ted as Lady Chatterley, star­ring Marina Hands as the eponym­ous aris­to­crat awakened by Jean-Louis Coullo'ch's man of the soil.
Lord Chatterley (Hippolyte Girardot) returns from World War One without the use of, ahem, any­thing below his waist – a meta­phor­ic­al as well as phys­ic­al dis­ab­il­ity. On a walk through the estate his young and inno­cent wife Constance spots middle-aged game­keep­er Parkin wash­ing him­self and finds her­self attrac­ted to his rugged Oliver Stone crossed with Klaus Kinski look as well as his easy, nat­ur­al way with the land. An affair com­mences and then plays itself out and that's about it.
Too respect­ful of it's source mater­i­al to really come alive on screen, Lady Chatterley is inex­plic­ably (and unfor­giv­ably) 2 and a half hours long.
Printed in Wellington's Capital Times on Wednesday 5 March, 2008.
After this went to print I dis­covered that Lady Chatterley was inten­ded as a two-part mini-series for French tele­vi­sion and thus it's length is not so inex­plic­able. Still unfor­giv­able, though.