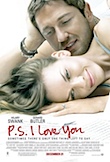 Hilary Swank's new twin-hanky romance P.S., I Love You is a remarkable achievement. In all my years of cinema-going I don't think I have ever seen a film get more wrong. From the clunky premise to the ghastly costume design; through awkward reverses in tone plus no small amount of self-indulgence on the part of Swank; it is as if everyone involved (when faced with a choice between the right way and the wrong way) simply flipped a coin and it came up "wrong" every time.
Swank plays New York widow Holly Kennedy, whose Irish husband Gerry (300's Gerard Butler) dies of a brain tumour following a scene demonstrating how powerful and tempestuous their romance is. Shortly after the wake, Holly starts receiving letters from Gerry, written before he died in order to coach her through the grief and help her start again. As if.
One of the letters includes tickets to Ireland for Holly and her best friends so she can revisit the scene of their first meeting (prompting an intolerably banal flashback scene). Meanwhile supporting cast Gina Gershon and Lisa Kudrow can enjoy the natives tooraloo-ing in that way that only the Hollywood Irish can.
Among all the other crimes committed by P.S., I Love You they cast wonderful musicians Harry Connick Jr. and Nellie McKay and then don't let them sing! But they make sure that Swank and Butler get to warble their way through a karaoke scene or two instead. Gah! Wrong-headed wrongy wrong wrongness. From Wrongville.

The French national theatre is called the Comédie-Française (which gives us a fair idea of what the French like to see on stage) and France's pre-eminent playwright is the legendary satirist and farceur Molière who reformed and transformed French theatre during the late 17th century. Molière now gets the Shakespeare in Love treatment with a glossy biopic speculating about a missing period in the playwright's life – in 1645 his company became bankrupt and Molière was thrown in jail. Mysteriously, his debts were paid and he was forced to tour the provinces for 12 years before returning to Paris and the patronage of Louis XIV.
In Laurent Tirard's film Molière (Romain Duris) is rescued by a wealthy businessman (Fabrice Luchini) who wishes to be coached in the ways of the theatre in order to woo the beautiful but arrogant Célimène (Swimming Pool's Ludovine Sagnier). The businessman's wife (Laura Morante) is not to know, of course, so Molière must masquerade as a priest providing spiritual training to the family. It's a classic farce set-up and we are asked to believe, somewhat fancifully, that this situation is the light-bulb moment that transforms Molière's work and, thus, French culture forever.
Molière is a passable entertainment if you are unfamiliar with the playwright's work but if you get the references you may find it more satisfying than I did. Duris seems miscast as Molière: altogether too intense.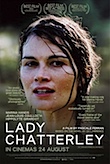 D. H. Lawrence must have really liked the story of Lady Chatterley's Lover as he wrote it twice, the second time with the improbable title "John Thomas and Lady Jane". It's this second version that Pascale Ferran has adapted as Lady Chatterley, starring Marina Hands as the eponymous aristocrat awakened by Jean-Louis Coullo'ch's man of the soil.
Lord Chatterley (Hippolyte Girardot) returns from World War One without the use of, ahem, anything below his waist – a metaphorical as well as physical disability. On a walk through the estate his young and innocent wife Constance spots middle-aged gamekeeper Parkin washing himself and finds herself attracted to his rugged Oliver Stone crossed with Klaus Kinski look as well as his easy, natural way with the land. An affair commences and then plays itself out and that's about it.
Too respectful of it's source material to really come alive on screen, Lady Chatterley is inexplicably (and unforgivably) 2 and a half hours long.
Printed in Wellington's Capital Times on Wednesday 5 March, 2008.
After this went to print I discovered that Lady Chatterley was intended as a two-part mini-series for French television and thus it's length is not so inexplicable. Still unforgivable, though.