My favour­ite post-Oscars quote came from David Thomson in The Guardian: "When the Slumdog mob – Europeans and Indians, adults and kids – took the stage to claim the best pic­ture Oscar, a land­mark was being estab­lished which dir­ectly reflects America's reduced place in the world." And as if to illus­trate that very point, this week Hollywood have offered us a piteous pris­on com­edy called Big Stan and Zack and Miri Make a Porno. It's like they aren't even try­ing anymore.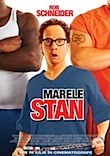 Big Stan is the debut fea­ture by com­ic act­or Rob Schneider, best-known for a pair of ghastly adult com­ed­ies fea­tur­ing his hap­less male pros­ti­tute alter-ego Deuce Bigelow. Schneider amaz­ingly main­tains a sol­id career (largely via the pat­ron­age of his great friend Adam Sandler) but there's no sat­is­fact­ory explan­a­tion for how he was let loose with a cam­era except that Hollywood is genu­inely out of ideas.
Schneider plays a real estate con man who is con­victed and sen­tenced to jail. Terrified at the pro­spect of immin­ent anal rape he enlists a mar­tial arts mas­ter (David Carradine) to make him, er, impreg­nable. Like being punched in the swing­ers by an angry dwarf for 90 minutes.