It's a little known fact in the movie industry that most cinema releases serve no great­er pur­pose than to provide some advance pub­li­city for an inev­it­able DVD release. This week sev­en new films were released into the Wellington mar­ket and barely more than a couple of them jus­ti­fied tak­ing up space and time on a big movie screen.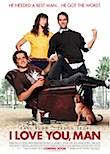 First up, I Love You, Man – anoth­er in the end­less parade of cash-ins on the for­mula lit­er­ally coined by Judd Apatow with 40-year-old Virgin and Knocked Up. In this ver­sion usu­al side-kick Paul Rudd takes centre-stage as mild-mannered real estate agent Peter Klaven, engaged to be mar­ried but with no Best Man. All his friends are women, you see, and hijinks ensue as he attempts to gen­er­ate some het­ero­sexu­al male friend­ships and get some bro-mance in his life.
The key thing to point out here is that I love You, Man isn't very funny and is very slow, but it will trot out the door of the video shop when the time comes, thanks to people like me giv­ing it the oxy­gen of pub­li­city. Dash it, sucked in again.