I believe that it should be illeg­al to even men­tion the word Christmas in any month oth­er than December. Yup, illeg­al. No one should be allowed to even breathe it, let alone have parades, dis­play mince pies in super­mar­kets or throw staff parties. If, as a once-great nation, we can restrict fire­work sales to three days before Guy Fawkes I'm sure we can man­age to pull our col­lect­ive yuletide-obsessed heads in for a few weeks and focus all that atten­tion on only one month a year.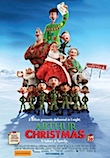 At least that's what I thought until last Friday. That was when I saw the new pic­ture from England's Aardman Animation, Arthur Christmas. I was pre­pared, based on my afore­men­tioned bah-humbuggery – and some unpre­pos­sess­ing trail­ers – to be scorn­ful and yet I was won over. Won over to the extent that I might as well be wrapped in tin­sel with a fairy on top. Arthur Christmas made me believe in Christmas a week before I was ready.
This film is digit­al 3D rather than the stop-motion clay mod­els that made Aardman fam­ous, but the inven­tion, wit, pace, struc­ture and com­mit­ment to theme are all securely in place, brought to life by an awe­some UK voice cast (Jim Broadbent and Bill Nighy both do out­stand­ing work) and some bril­liantly clev­er visuals.