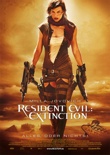 Back in 1984, Russell Mulcahy made Razorback, the tale of a giant mutant pig ter­ror­ising a small out­back town, and his next film is going to be about a man turned into a koala by an ancient abori­gin­al curse, both of which make Resident Evil 3: Extinction look like Anna Karenina. You don't need to have seen the pre­vi­ous two Resident Evil films or played the video game (I had­n't) as the plot is pretty simple: zom­bies = bad; super­mod­els = good; genet­ic engin­eer­ing = very bad (unless you are genet­ic­ally engin­eer­ing super­mod­els which = very good). Stoic action-hero Milla Jovovich is pho­to­graphed using the Chanel fil­ter whenev­er she isn't sli­cing up the un-dead and the film is enter­tain­ing when there's action and tedi­ous when there isn't.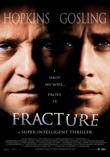 In Fracture, hot­shot young act­or Ryan Gosling plays a hot­shot young Deputy DA, about to make the leap to a big-time cor­por­ate gig but first he has to con­vict Anthony Hopkins who has just shot his wife in the head. Now, IANAL but Fracture seems pretty shonky from a pro­ced­ur­al and leg­al point of view. Can the LA County court sys­tem really send an attemp­ted mur­der­er to tri­al less than a fort­night after the offence? I doubt it, but that con­densed time-frame is vital for Goslings' char­ac­ter motiv­a­tion and there­fore the rest of the plot, so best to turn a blind-eye to the detail and focus on two great screen act­ors enjoy­ing themselves.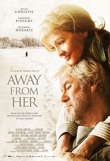 Film of the week by some dis­tance is Away From Her by the sub­limely gif­ted Sarah Polley. In snowy Ontario Julie Christie is Fiona, a woman strug­gling with the onset of Alzheimers Disease. Husband Grant (Gordon Pinsent) seems to be strug­gling even more, how­ever, and when she decides to go in to res­id­en­tial care he feels that, per­haps, he is being pun­ished by her for past transgressions.
Christie is sen­sa­tion­al but the rev­el­a­tion for me is Pinsent, a liv­ing legend in Canada but rarely seen else­where. His is an extraordin­ary per­form­ance, fully invest­ing his char­ac­ter with all of the pain­ful mash of love, loss and guilt that Polley's elo­quently spare script requires. His raw and con­fused emo­tions are not just etched in his craggy face but into his ever-moistening eyes.

Glenn Standring's Perfect Creature is a respect­able genre effort, although devoid of much ori­gin­al­ity. In a steampunk-flavoured altern­at­ive real­ity New Zealand, genet­ic­ally engin­eered vam­pires known as Brothers con­trol soci­ety via reli­gion. When one of their order goes berko and starts eat­ing cit­izens, the sup­posedly del­ic­ate bal­ance between the species/races/whatever is threatened. Deputy Brother Silus (Dougray Scott) teams up with the cheekbones of Detective Lilly (Saffron Burrows) to bring the fiend to justice.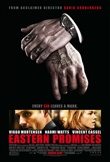 One of the most start­ling career re-inventions of recent times must belong to screen­writer Steven Knight who until 2002 was a TV hack best known for being Jasper Carrott's chief gag-man and cre­at­or of Who Wants To be a Millionaire? The script for the excel­lent Dirty Pretty Things launched his fea­ture career and he now delves even deep­er in to the seedy under­belly of gang­land London with Eastern Promises, star­ring Viggo Mortensen and Naomi Watts. Watts plays a London hos­pit­al mid­wife and (help­fully) daugh­ter of a Russian. A young girl dies in child­birth on her watch but the diary she was car­ry­ing provides a clue to her iden­tity and leads Watts to the Russian mafia king­pin (Armin Mueller-Stahl), his nut­job son (Vincent Cassell) and the son's driver (Viggo). Director Cronenberg steers us through the murk effect­ively enough and there's one thrill­ing set-piece in a turk­ish bath which con­firms his tal­ent for cine­mat­ic viol­ence (if it was ever in doubt). Final irony: the three Russians are played by a German, a Frenchman and a Dane.
Printed in Wellington's Capital Times on Wednesday 31 October, 2007.
Notes on screen­ing con­di­tions: Away From Her was screened in Penthouse One and the shut­ter tim­ing is still out and get­ting worse. There are also signs of dam­age to the screen (from some­thing behind it?) on the right-hand side. It was also the most uncom­fort­able seat I have sat in this year. This is all a bit of a shame as Penthouse Three (the new one) is per­fectly fine but it looks like stand­ards aren't being main­tained everywhere.