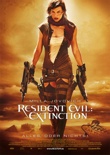 Back in 1984, Russell Mulcahy made Razorback, the tale of a giant mutant pig terrorising a small outback town, and his next film is going to be about a man turned into a koala by an ancient aboriginal curse, both of which make Resident Evil 3: Extinction look like Anna Karenina. You don't need to have seen the previous two Resident Evil films or played the video game (I hadn't) as the plot is pretty simple: zombies = bad; supermodels = good; genetic engineering = very bad (unless you are genetically engineering supermodels which = very good). Stoic action-hero Milla Jovovich is photographed using the Chanel filter whenever she isn't slicing up the un-dead and the film is entertaining when there's action and tedious when there isn't.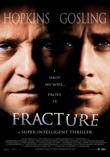 In Fracture, hotshot young actor Ryan Gosling plays a hotshot young Deputy DA, about to make the leap to a big-time corporate gig but first he has to convict Anthony Hopkins who has just shot his wife in the head. Now, IANAL but Fracture seems pretty shonky from a procedural and legal point of view. Can the LA County court system really send an attempted murderer to trial less than a fortnight after the offence? I doubt it, but that condensed time-frame is vital for Goslings' character motivation and therefore the rest of the plot, so best to turn a blind-eye to the detail and focus on two great screen actors enjoying themselves.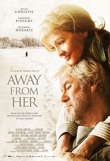 Film of the week by some distance is Away From Her by the sublimely gifted Sarah Polley. In snowy Ontario Julie Christie is Fiona, a woman struggling with the onset of Alzheimers Disease. Husband Grant (Gordon Pinsent) seems to be struggling even more, however, and when she decides to go in to residential care he feels that, perhaps, he is being punished by her for past transgressions.
Christie is sensational but the revelation for me is Pinsent, a living legend in Canada but rarely seen elsewhere. His is an extraordinary performance, fully investing his character with all of the painful mash of love, loss and guilt that Polley's eloquently spare script requires. His raw and confused emotions are not just etched in his craggy face but into his ever-moistening eyes.

Glenn Standring's Perfect Creature is a respectable genre effort, although devoid of much originality. In a steampunk-flavoured alternative reality New Zealand, genetically engineered vampires known as Brothers control society via religion. When one of their order goes berko and starts eating citizens, the supposedly delicate balance between the species/races/whatever is threatened. Deputy Brother Silus (Dougray Scott) teams up with the cheekbones of Detective Lilly (Saffron Burrows) to bring the fiend to justice.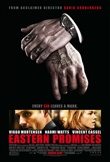 One of the most startling career re-inventions of recent times must belong to screenwriter Steven Knight who until 2002 was a TV hack best known for being Jasper Carrott's chief gag-man and creator of Who Wants To be a Millionaire? The script for the excellent Dirty Pretty Things launched his feature career and he now delves even deeper in to the seedy underbelly of gangland London with Eastern Promises, starring Viggo Mortensen and Naomi Watts. Watts plays a London hospital midwife and (helpfully) daughter of a Russian. A young girl dies in childbirth on her watch but the diary she was carrying provides a clue to her identity and leads Watts to the Russian mafia kingpin (Armin Mueller-Stahl), his nutjob son (Vincent Cassell) and the son's driver (Viggo). Director Cronenberg steers us through the murk effectively enough and there's one thrilling set-piece in a turkish bath which confirms his talent for cinematic violence (if it was ever in doubt). Final irony: the three Russians are played by a German, a Frenchman and a Dane.
Printed in Wellington's Capital Times on Wednesday 31 October, 2007.
Notes on screening conditions: Away From Her was screened in Penthouse One and the shutter timing is still out and getting worse. There are also signs of damage to the screen (from something behind it?) on the right-hand side. It was also the most uncomfortable seat I have sat in this year. This is all a bit of a shame as Penthouse Three (the new one) is perfectly fine but it looks like standards aren't being maintained everywhere.