While thou­sands of protest­ors gath­er in Manhattan to "Occupy Wall St", the European eco­nomy teeters on the brink of col­lapse, unem­ploy­ment across the developed world grows and sev­er­al Pacific island nations report short­ages of drink­ing water due to cli­mate change, here in New Zealand we con­tin­ue to party like it's 1987 and at the pic­tures for the school hol­i­days we have the most blatant and des­per­ate examples of cor­por­at­ist "enter­tain­ment" I've ever seen lined up togeth­er. Is this the cinema equi­val­ent of fid­dling while Rome burns?
In The Smurfs the mega-sized Sony cor­por­a­tion makes sure that its name and products are nev­er very far from the centre of the screen, ren­der­ing the lumpy end product utterly charm­less. In Real Steel the product place­ment is more like product bom­bard­ment. Nothing goes without a logo – from Hugh Jackman's sunglasses to HP (or are they still known as Hewlett-Packard?) spend­ing thou­sands of dol­lars to pro­mote products they don't even make any­more. Meanwhile, the spies in Spy Kids 4 all use Apple products – although for the most part they are pre­tend­ing to be some­thing oth­er than com­puters and iPads.
Johnny English Reborn even goes so far as to make a joke out of its depend­ency on the rap­idly declin­ing cor­por­ate dol­lar – English's beloved MI7 has changed it's name to Toshiba MI7 while he was on an enforced sab­bat­ic­al. Whether the pres­ence of a sen­su­ously pho­to­graphed (and glow­ingly described) Rolls Royce will prompt the aver­age audi­ence mem­ber to trade in their fifteen-year-old Mazdas is neither here nor there. The fact remains that if you send your kids to the pic­tures this hol­i­days they will be indoc­trin­ated more than any gen­er­a­tion before them.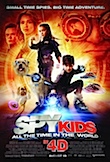 But are the films any good? Actually, yes, a couple of them are OK. I'm a big fan of Robert Rodriguez and his abil­ity to altern­ately churn out grown-up pulp like Machete and family-friendly fare like Shorts. His Troublemaker Studios in Austin knows how to make things look good (enough) on mod­est budgets and Rodriguez' relent­lessly invent­ive ima­gin­a­tion keeps everything lively and fun. I thought Spy Kids 4 was endear­ing and it man­aged to deliv­er a good mes­sage along with the thrills and spills.