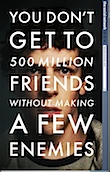 From the tour de force of A Few Good Men in 1992 ("You can't handle the truth!") to the win­ning Charlie Wilson's War in 2007, Aaron Sorkin's spark­ling dia­logue and intel­li­gent char­ac­ters provide (all too rare) beacons of bril­liance among the parade of dross that is most com­mer­cial cinema.
And that doesn't count his con­tri­bu­tion to tele­vi­sion. I'm one of those people who love "The West Wing" so much that I wish I could simply main­line it dir­ect into a vein, so a new Sorkin script of any descrip­tion is an event.
Torn from the blogs (and a best-selling book by Ben Mezrich), The Social Network is the heav­ily myth­o­lo­gised story of the inven­tion of Facebook and the leg­al tussles over the plen­ti­ful spoils. Sorkin is in his ele­ment, here: He doesn't write action or gun-battles, he writes smart, lit­er­ate people arguing over ideas and it's an unend­ing pleasure.