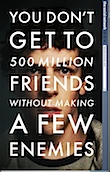 From the tour de force of A Few Good Men in 1992 ("You can't handle the truth!") to the winning Charlie Wilson's War in 2007, Aaron Sorkin's sparkling dialogue and intelligent characters provide (all too rare) beacons of brilliance among the parade of dross that is most commercial cinema.
And that doesn't count his contribution to television. I'm one of those people who love "The West Wing" so much that I wish I could simply mainline it direct into a vein, so a new Sorkin script of any description is an event.
Torn from the blogs (and a best-selling book by Ben Mezrich), The Social Network is the heavily mythologised story of the invention of Facebook and the legal tussles over the plentiful spoils. Sorkin is in his element, here: He doesn't write action or gun-battles, he writes smart, literate people arguing over ideas and it's an unending pleasure.
It really helps that his script is supported by able direction from David "Fight Club" Fincher who propels the story forward at blistering pace. Hugely entertaining, but with less insight into the modern world of virtual communities and social media than one might have hoped. Perhaps that film is still to come from somewhere.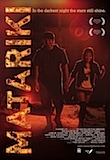 The latest in a string of Auckland-produced Kiwi indies opens on Thursday: Matariki is a brave multi-character drama set in a self-consciously multi-cultural South Auckland. When a League star (Mark Ruka) is beaten up trying to save a stranger from a gang hiding, the ripples spread out to affect plenty of people including the star's brother, the brother's boyfriend (co-writer Iaheto Ah Hi), the star's cop wife (Sara Wiseman), etc.
The model for this sort of thing is the great Lantana (from Australia nearly ten years ago) and it's a brave structure to attempt. Matariki falls into a few of the traps (it's heavily contrived at times) but it has a big heart which it wears proudly on its sleeve.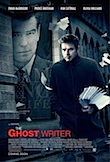 The Ghost Writer turned out to be an entertaining watch, despite the plentiful holes in the plot and the rushed denouement. Ewan McGregor plays a hack specialising in ghosting celebrity autobiographies. He gets the chance of a lifetime when the Blair-like former Prime Minister (Pierce Brosnan) needs help with his manuscript — turns out the previous ghost writer threw himself off a ferry. Soon, the conspiracy theories escalate and so does the paranoia. Fun and games, well manipulated by director Roman Polanski.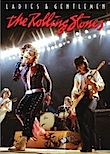 There was a disappointing turnout for the Saturday afternoon screening of Ladies & Gentlemen: The Rolling Stones, a restored digital presentation of rarely seen concert footage from 1972. Perhaps the "event" pricing of $25 a ticket put off the casual buyer, or maybe audiences aren't yet aware that the digital projectors at Readings (and soon the Embassy) are going to be screening more than just, what's the word, films.
In any case, you all missed a fascinating historical artefact. The performance was lively and rough around the edges, Jagger's anatomically improbable codpiece was distracting and (like almost all Stones movies) there wasn't enough Charlie Watts.
Printed in Wellington's Capital Times on Wednesday 17 November, 2010.