The Rugby World Cup was sup­posed to be a boon for the whole eco­nomy, the thou­sands of excited guests soak­ing up our food, wine, cul­ture and hos­pit­al­ity. Ask any cinema (or theatre) own­er what's really hap­pen­ing and you'll get the incon­veni­ent truth – the Rugby World Cup itself is soak­ing up all the atten­tion and most of the dol­lars. For at least one cinema own­er num­bers are down 30–40% on this time last year. This shouldn't be news – even in my day run­ning the Paramount we knew that a Saturday night All Black game meant it was hardly worth open­ing – a 7.30 kick-off killed your two best two sessions.
Night rugby has been a dis­aster for every­body except Sky TV and the bars that show it. At least in the days of after­noon games people could watch their team and go out for din­ner and a movie after­wards – the interests of whole fam­il­ies could be accom­mod­ated. Those days appear to be long gone.
This week we see that New Zealand's film dis­trib­ut­ors have thrown in the tow­el and dumped the year's worst product in a week no one was going to the pic­tures any­way. For my sins I sat (mostly) alone in pic­ture theatres all over the city to help you decide how best to (cine­mat­ic­ally) escape Dan Carter's groin.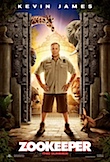 To be fair to Zookeeper, I was far from alone at the Saturday mat­inée screen­ing – it seems portly comedi­an Kevin James (Paul Blart: Mall Cop) is a pop­u­lar fig­ure here in New Zealand. In The Dilemma he showed that there's some nas­cent dra­mat­ic tal­ent lurk­ing beneath the lazy choices he's been mak­ing but there's no sign of it here. James plays a lonely but caring Boston zoo­keep­er who thinks that his smelly occu­pa­tion is hold­ing him back, romantically-speaking.