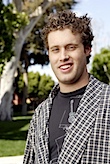 This year the sum­mer hol­i­days seemed to have been owned by the unlikely fig­ure of T.J. Miller, dead­pan comedi­an, sup­port­ing act­or and eer­ily famil­i­ar back­ground fig­ure. In Yogi Bear he was the ambi­tious but dim deputy park ranger eas­ily duped by Andrew Daly's smarmy Mayor into help­ing him sell out Jellystone to cor­por­ate log­ging interests, in Gulliver's Travels he was the ambi­tious but as it turns out dim mail room super­visor who pro­vokes Jack Black into pla­gi­ar­ising his way into a fate­ful travel writ­ing gig and in Unstoppable he's the slightly less dim (and cer­tainly less ambi­tious) mate of the doo­fus who leaves the hand­brake on and then watches his enorm­ous freight train full of tox­ic waste roll away.
So, a good sum­mer for T.J. Miller then, what about the rest of us?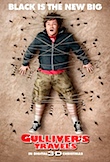 If you are a kid being dragged to the cinema was hit or miss. The Jack Black vehicle, Gulliver's Travels, was sporad­ic­ally enter­tain­ing but a little of Mr Black goes a long way these days and when he's 50 feet tall… Stirling sup­port­ing work is put in by Emily Blunt whose flair for com­edy is pre­vi­ously unknown and like­able lump Jason Segal whose English accent comes and goes.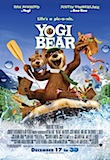 The kid­let audi­ence at Yogi Bear was the most rest­less I have encountered in a long time prov­ing that even the match­less tal­ents of Dan Aykroyd and Justin Timberlake ("togeth­er at last") can't keep kids' atten­tion if the story and the gags aren't up to it. A drippy lead human (Tom Cavanagh as Ranger Smith) and spark­less romance with wild­life doc­u­ment­ary maker Anna Faris don't help.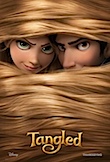 But, if you were taken to see Tangled you hit the jack­pot. Disney, under the stew­ard­ship of Pixar's John Lasseter, has got a new lease of anim­ated life and Tangled is splen­didly enter­tain­ing fare for all ages. Princess Rapunzel (Mandy Moore) has been locked in a tower all her life after being kid­napped by the evil Mother Gothel (Donna Murphy) who uses her magic hair to keep her young. Handsome rogue Flynn Rider (Zachary Levi) dis­cov­ers the tower and between them they try and restore Rapunzel to her par­ents and keep him out of jail.
If you were think­ing about the movies as a date this sum­mer, the pick­ings were equally mixed.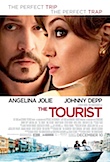 Remember when Johnny Depp was the most beau­ti­ful man alive? Not that long ago, surely? Well, those days appear to be long gone as Mr Depp looks hag­gard and over­weight in the role of Wisconsin math teach­er Frank Tupelo, seduced on a train to Venice by Angelina Jolie in The Tourist. She's on her way to meet the real crim­in­al, a man with a new face, and she's picked up Depp to throw the fuzz off the trail. The Tourist is designed as a kind of homage to Hitchcock's romantic caper movie To Catch a Thief, all it does is demon­strate that Mr Depp is no Cary Grant and Ms Jolie is no Grace Kelly. And dir­ect­or Florian Henckel von Donnersmarck is no Alfred Hitchcock, but then who is?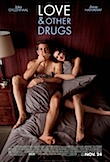 Edward Zwick's Love and Other Drugs has a lot going for it, not least appeal­ing and good look­ing leads (Anne Hathaway and Jake Gyllenhaal not mis­cast for a change) who spend a good deal of the film without their clothes on. Zwick, Hathaway and Jake do a good job of present­ing the begin­ning and middle parts of a pas­sion­ate rela­tion­ship but sadly that only amounts to about 20% of a film that fails to deliv­er on everything else. Corporate satire, Love Story tragedy and Apatow-style sex com­edy are all jammed togeth­er uncom­fort­ably and the whole is less than the sum of it's messy parts.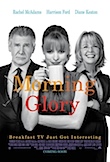 Rachel McAdams has gen­er­ally failed to catch the eye in all her pre­vi­ous films (State of Play, The Time Traveller's Wife) but we can assume that couldn't have been her fault as she lights up the screen in Morning Glory. She plays ambi­tious break­fast TV pro­du­cer Becky Fuller who is giv­en a shot at res­cuing the low­est rated show on the air.
She starts by fir­ing the dick­head male host and replaces him with respec­ted news anchor and award win­ning journ­al­ist Harrison Ford (which in our terms is a bit like repla­cing Paul Henry with Philip Sherry). Ford thinks the whole thing is beneath him but even­tu­ally the per­sist­ent McAdams breaks through his flinty exter­i­or to the tiny heart of gold inside.
What I liked about Morning Glory was that McAdams char­ac­ter remained com­mit­ted to her career and she wasn't at any time defined by her romantic life (with Hard Candy's Patrick Wilson) – she's like the com­plete anti­thes­is of every char­ac­ter Katherine Heigl has ever played.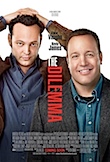 The Dilemma plays out like an uncom­fort­able cross between an Adam Sandler juven­ile com­edy and a ser­i­ous rela­tion­ship drama and yet some­how it works – at least it did for me. Vince Vaughan and Kevin James have been best mates since col­lege and now they are in busi­ness togeth­er. Vaughan dis­cov­ers that James' wife, Winona Ryder, is cheat­ing and doesn't know how to deal with it. In fact, he deals with it so badly that he threatens the friend­ship, the busi­ness and his own rela­tion­ship with the beau­ti­ful woman (Jennifer Connelly) who loves him.
Speaking as someone who learned to appre­ci­ate the value of 20 year friend­ships over the hol­i­day, I found The Dilemma spoke to me. And it enter­tained me too.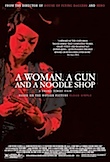 Pickings were slim at the art­house. Yimou Zhang's demen­ted remake of The Coen's Blood Simple , A Woman, a Gun and a Noodle Shop, set in remote China, hun­dreds of years ago, was enter­tain­ing if you could get over the pan­to­mime acting.

But if you pre­ferred watch­ing not very much hap­pen, slowly, then the French drama Mademoiselle Chambon would've suited you. It's anoth­er class con­scious, for­bid­den romance pic­ture in which build­er Vincent Lindon falls for his kid's primary school teach­er (Sandrine Kiberlain). Lindon is always watch­able – strong and yet some­how broken at the same time – but the film itself is dreary.
I'm out of space so we'll com­plete this sur­vey next week, plus a look at the first lot of 2011 Oscar-bait includ­ing The King's Speech and Black Swan.
Printed in Wellington's Capital Times on Wednesday 19 January, 2011.