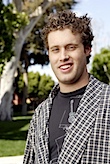 This year the summer holidays seemed to have been owned by the unlikely figure of T.J. Miller, deadpan comedian, supporting actor and eerily familiar background figure. In Yogi Bear he was the ambitious but dim deputy park ranger easily duped by Andrew Daly's smarmy Mayor into helping him sell out Jellystone to corporate logging interests, in Gulliver's Travels he was the ambitious but as it turns out dim mail room supervisor who provokes Jack Black into plagiarising his way into a fateful travel writing gig and in Unstoppable he's the slightly less dim (and certainly less ambitious) mate of the doofus who leaves the handbrake on and then watches his enormous freight train full of toxic waste roll away.
So, a good summer for T.J. Miller then, what about the rest of us?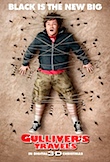 If you are a kid being dragged to the cinema was hit or miss. The Jack Black vehicle, Gulliver's Travels, was sporadically entertaining but a little of Mr Black goes a long way these days and when he's 50 feet tall… Stirling supporting work is put in by Emily Blunt whose flair for comedy is previously unknown and likeable lump Jason Segal whose English accent comes and goes.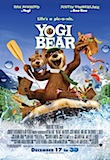 The kidlet audience at Yogi Bear was the most restless I have encountered in a long time proving that even the matchless talents of Dan Aykroyd and Justin Timberlake ("together at last") can't keep kids' attention if the story and the gags aren't up to it. A drippy lead human (Tom Cavanagh as Ranger Smith) and sparkless romance with wildlife documentary maker Anna Faris don't help.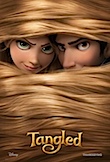 But, if you were taken to see Tangled you hit the jackpot. Disney, under the stewardship of Pixar's John Lasseter, has got a new lease of animated life and Tangled is splendidly entertaining fare for all ages. Princess Rapunzel (Mandy Moore) has been locked in a tower all her life after being kidnapped by the evil Mother Gothel (Donna Murphy) who uses her magic hair to keep her young. Handsome rogue Flynn Rider (Zachary Levi) discovers the tower and between them they try and restore Rapunzel to her parents and keep him out of jail.
If you were thinking about the movies as a date this summer, the pickings were equally mixed.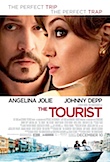 Remember when Johnny Depp was the most beautiful man alive? Not that long ago, surely? Well, those days appear to be long gone as Mr Depp looks haggard and overweight in the role of Wisconsin math teacher Frank Tupelo, seduced on a train to Venice by Angelina Jolie in The Tourist. She's on her way to meet the real criminal, a man with a new face, and she's picked up Depp to throw the fuzz off the trail. The Tourist is designed as a kind of homage to Hitchcock's romantic caper movie To Catch a Thief, all it does is demonstrate that Mr Depp is no Cary Grant and Ms Jolie is no Grace Kelly. And director Florian Henckel von Donnersmarck is no Alfred Hitchcock, but then who is?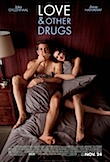 Edward Zwick's Love and Other Drugs has a lot going for it, not least appealing and good looking leads (Anne Hathaway and Jake Gyllenhaal not miscast for a change) who spend a good deal of the film without their clothes on. Zwick, Hathaway and Jake do a good job of presenting the beginning and middle parts of a passionate relationship but sadly that only amounts to about 20% of a film that fails to deliver on everything else. Corporate satire, Love Story tragedy and Apatow-style sex comedy are all jammed together uncomfortably and the whole is less than the sum of it's messy parts.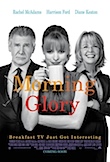 Rachel McAdams has generally failed to catch the eye in all her previous films (State of Play, The Time Traveller's Wife) but we can assume that couldn't have been her fault as she lights up the screen in Morning Glory. She plays ambitious breakfast TV producer Becky Fuller who is given a shot at rescuing the lowest rated show on the air.
She starts by firing the dickhead male host and replaces him with respected news anchor and award winning journalist Harrison Ford (which in our terms is a bit like replacing Paul Henry with Philip Sherry). Ford thinks the whole thing is beneath him but eventually the persistent McAdams breaks through his flinty exterior to the tiny heart of gold inside.
What I liked about Morning Glory was that McAdams character remained committed to her career and she wasn't at any time defined by her romantic life (with Hard Candy's Patrick Wilson) — she's like the complete antithesis of every character Katherine Heigl has ever played.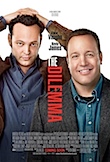 The Dilemma plays out like an uncomfortable cross between an Adam Sandler juvenile comedy and a serious relationship drama and yet somehow it works — at least it did for me. Vince Vaughan and Kevin James have been best mates since college and now they are in business together. Vaughan discovers that James' wife, Winona Ryder, is cheating and doesn't know how to deal with it. In fact, he deals with it so badly that he threatens the friendship, the business and his own relationship with the beautiful woman (Jennifer Connelly) who loves him.
Speaking as someone who learned to appreciate the value of 20 year friendships over the holiday, I found The Dilemma spoke to me. And it entertained me too.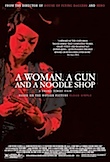 Pickings were slim at the arthouse. Yimou Zhang's demented remake of The Coen's Blood Simple , A Woman, a Gun and a Noodle Shop, set in remote China, hundreds of years ago, was entertaining if you could get over the pantomime acting.

But if you preferred watching not very much happen, slowly, then the French drama Mademoiselle Chambon would've suited you. It's another class conscious, forbidden romance picture in which builder Vincent Lindon falls for his kid's primary school teacher (Sandrine Kiberlain). Lindon is always watchable — strong and yet somehow broken at the same time — but the film itself is dreary.
I'm out of space so we'll complete this survey next week, plus a look at the first lot of 2011 Oscar-bait including The King's Speech and Black Swan.
Printed in Wellington's Capital Times on Wednesday 19 January, 2011.