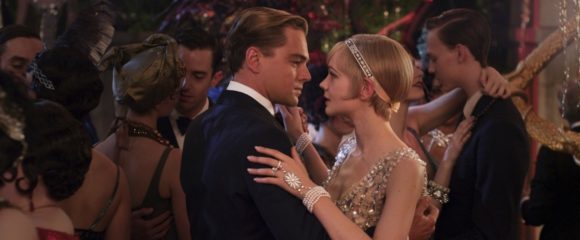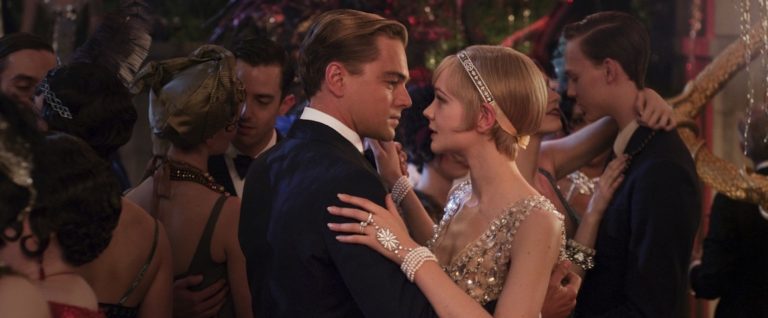 For all the digit­al glit­ter and ana­chron­ist­ic hip-hoppery that sig­ni­fies our latest re-entry into Luhrman-land, The Great Gatsby itself takes fun­da­ment­al inspir­a­tion from a black and white clas­sic from 1941. Featuring a flash­back fram­ing device, a lonely and heart­sick tycoon star­ing out of the win­dow of a grot­esque castle, and even a breath­less deathbed "Daisy" uttered as if it summed up an entire life (like "Rosebud"), Gatsby is no less than Baz Luhrman's Citizen Kane. Even his star, Leonardo DiCaprio is start­ing to resemble a Wellesian hero, at least in the jow­els if not the girth.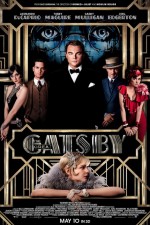 So, no pres­sure, then, Baz – you're only mer­ging the great American nov­el and the greatest movie of all time. Of course, he can't pos­sibly suc­ceed on his own unima­gin­ably ambi­tious terms, but he falls a bit short on the basic "tell a story" level too – even if he man­ages to make some sequences sing.
Set in 1922 (and writ­ten by F. Scott Fitzgerald in 1925, well before the Jazz Age came crash­ing down into the Great Depression), Gatsby is the story of one man's rein­ven­tion out of the trauma of World War One and into the longest, biggest (and most illeg­al) party the world had ever seen.
[pullquote]
Fast & Furious
is vast and curious[/pullquote]DiCaprio's Gatsby has built a busi­ness empire out of the drug stores and speak­easies of Manhattan and a Xanadu on the shores of Long Island, all the while gaz­ing long­ingly across the water at the house where Daisy Buchanan (
Carey Mulligan
) lives. Daisy is the last piece of his puzzle, she will make him whole and she will help him gain accept­ance into the high soci­ety that scorns his dubiously-earned new money. He may also genu­inely be in love with her, of course.