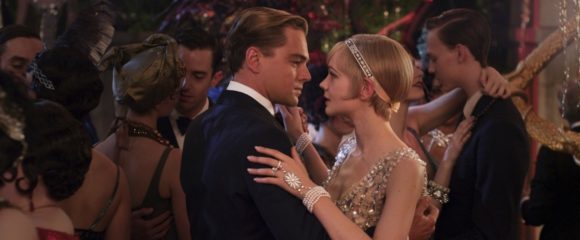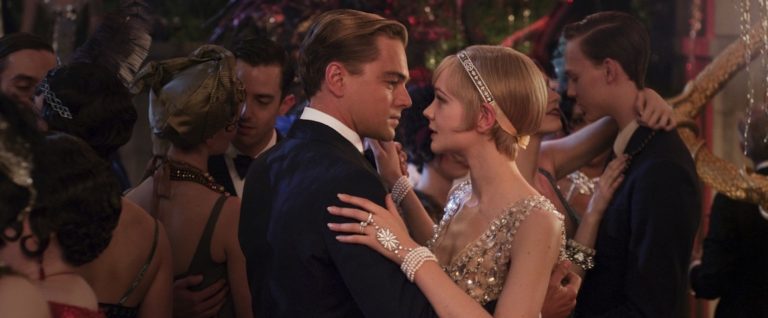 For all the digit­al glit­ter and ana­chron­ist­ic hip-hoppery that sig­ni­fies our latest re-entry into Luhrman-land, The Great Gatsby itself takes fun­da­ment­al inspir­a­tion from a black and white clas­sic from 1941. Featuring a flash­back fram­ing device, a lonely and heart­sick tycoon star­ing out of the win­dow of a grot­esque castle, and even a breath­less deathbed "Daisy" uttered as if it summed up an entire life (like "Rosebud"), Gatsby is no less than Baz Luhrman's Citizen Kane. Even his star, Leonardo DiCaprio is start­ing to resemble a Wellesian hero, at least in the jow­els if not the girth.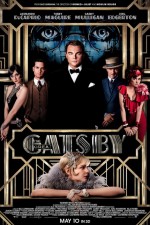 So, no pres­sure, then, Baz – you're only mer­ging the great American nov­el and the greatest movie of all time. Of course, he can't pos­sibly suc­ceed on his own unima­gin­ably ambi­tious terms, but he falls a bit short on the basic "tell a story" level too – even if he man­ages to make some sequences sing.
Set in 1922 (and writ­ten by F. Scott Fitzgerald in 1925, well before the Jazz Age came crash­ing down into the Great Depression), Gatsby is the story of one man's rein­ven­tion out of the trauma of World War One and into the longest, biggest (and most illeg­al) party the world had ever seen.
[pullquote]
Fast & Furious
is vast and curious[/pullquote]DiCaprio's Gatsby has built a busi­ness empire out of the drug stores and speak­easies of Manhattan and a Xanadu on the shores of Long Island, all the while gaz­ing long­ingly across the water at the house where Daisy Buchanan (
Carey Mulligan
) lives. Daisy is the last piece of his puzzle, she will make him whole and she will help him gain accept­ance into the high soci­ety that scorns his dubiously-earned new money. He may also genu­inely be in love with her, of course.
Narrated from an alco­hol­ic asylum by once-promising writer and Gatsby-confidante Nick Carraway (Tobey Maguire), the film thrusts us into the glam­or­ous milieu, attempt­ing to dazzle the audi­ence as Carraway is dazzled by Gatsby's charm. Noisy, impetu­ous, bois­ter­ous, the film suf­fers from Luhrman's usu­al ADHD dir­ec­tion. It's as if he can't bring him­self to just let the cam­era be – we're always mov­ing and everything in front of the cam­era is always mov­ing. There's no chance for the emo­tion­al con­tent to brew – Baz has to keep stirring.
Personally, I'm not too bothered at the liber­ties taken with the ori­gin­al story (indeed, a little less reli­ance on nar­ra­tion and Fitzgerald's prose might have helped the film find its own voice), after all a film has to find itself out of the source mater­i­al not become a set of audio-visual stu­dents notes. My beef with Gatsby is that I found myself not really caring – and won­der­ing why Carraway cared so much, so much that his own life col­lapsed into an alco­hol­ic haze.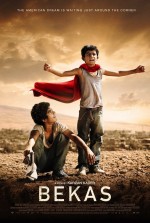 Bekas is a semi-autobiographical tale inspired by writer-director Karzan Kader's escape from Saddam's Iraq after the first Gulf War.
Kurdish broth­ers Zana (Zamand Taha) and Dana (Sarwar Fazil) are orphaned and home­less, scrap­ing a liv­ing out of shoe shines and their wits. A sneak peak at a Superman movie through a hole in the wall of the loc­al fleapit inspires the boys to seek a new life in America – except neither of them knows where America is or how to get there. Ten-year-old Dana tries to buy pas­sage across the bor­der from a shady people-smuggler while young­er Zana wins a don­key in a game of dice – which he imme­di­ately names Michael Jackson.
Lively and cute, the boys bick­er loudly and often as they make their treach­er­ous way across the desert, ignor­ant of the very real dangers they face until it's too late. Spectacularly shot in the Kurdistan region of a still risky Iraq, your enjoy­ment of Bekas will depend on how endear­ing you find these kids. I adored them and really enjoyed the film.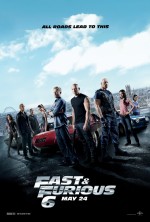 Fast & Furious is vast and curi­ous – a fran­chise I even­tu­ally came to appre­ci­ate once I real­ised it is just as fant­ast­ic­al as any lycra and cape super­hero movie, des­pite the blue col­lar set­ting. Five (Rio) was fun but Six takes them to London where the grey skies seem to suck a bit of the joie de vivre out of things. The crew – led by part-time movie stars Vin Diesel and Paul Walker – are in Blighty to take down a Welsh super-criminal (Luke Evans) with designs on a spe­cial piece of mil­it­ary kit known as "the component".
As usu­al, they take time out for an illeg­al street race (down Whitehall and past Piccadilly Circus, as you do) but the most unfathom­able sec­tion is the final con­front­a­tion as they try and stop the villain's escape from the word's longest air­port run­way. Silly fun, and mostly set­ting up the next epis­ode in the series.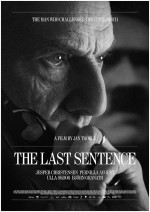 The Last Sentence is an entirely respect­able – if slightly mor­ose – drama about the one Swedish news­pa­per edit­or who stood up to Hitler in the years before and dur­ing WWII. Jesper Christensen (the Quantum Organisation vil­lain from Casino Royale who, incid­ent­ally, is still at large) plays Torgny Segerstedt, a lapsed theo­lo­gian with a some­what com­plic­ated home life. The film implies that his implac­able oppos­i­tion to Nazism – he seems to know an awful lot about what they are going to do – is down to his romantic rela­tion­ship with the Jewish wife of his paper's owner.
That's as maybe, but he rails unsuc­cess­fully against Herr Hitler for more than 12 years, fail­ing to shake Sweden's self-defensive neut­ral­ity. Handsome black and white pho­to­graphy and decent per­form­ances not­with­stand­ing, I'm not sure quite why we in 21st cen­tury New Zealand are sup­posed to be inter­ested in this man. Two hours later, I still don't know.