I've been grumpy all week for all sorts of reas­ons and the last thing I needed was a week­end of crappy films but that's what I got. I mean, I'm spend­ing longer writ­ing this review than the writers of Fast & Furious or 17 Again spent on their scripts – put togeth­er, probably.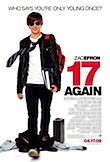 The improb­ably named Burr Steers is the dir­ect­or of 17 Again but that's where the fun stops. Matthew Perry plays a 37-year-old former high school bas­ket­ball star who chose the love of his preg­nant girl­friend instead of a col­lege schol­ar­ship and dug him­self deep into a dowdy life of fail­ure and regret. A mys­ter­i­ous bearded jan­it­or, a bridge (a frankly insult­ing homage to It's a Wonderful Life) and an unspe­cified magic­al event put him back in his buff 17-year-old body which he uses to re-engage with his chil­dren and get to know his wife again.
I've got some time for the tele­vi­sion ver­sion of Matthew Perry (did you see "Studio 60"?), and des­pite his tra­gic cinema career choices he remains a com­ic act­or who is unafraid of (or unable to sup­press) the sad­ness behind his eyes. Unfortunately, he dis­ap­pears after 15 minutes to be replaced by High School Musical 's Zac Efron, a smug pretty-boy with some dance moves and no cha­risma and it is he who car­ries the film to its des­ol­ate conclusion.