Today, at the Virginia Theater in Urbana Ill., a few thou­sand cinephiles and Ebert-olytes are gath­er­ing for the first day of the 15th Ebertfest, formerly known as Roger Ebert's Overlooked Film Festival. I should be with them – I even bought a pass back in November last year – but a change of job meant no annu­al leave and no money for the flight. Normally, I would just say, "there'll always be next year" but with Mr. Ebert's recent passing I don't know if that will be true.
Instead, we turn our atten­tion to loc­al events and there's plenty to keep us enter­tained on top of all the new com­mer­cial releases. For a start, the new NZFF Autumn Events ini­ti­at­ive – repla­cing the much-loved (by me) World Cinema Showcase – gets under way today and the fest­iv­al organ­isa­tion were good enough to slip me a few screen­ers so I could tip you off about some of the less-heralded titles. So, I'm going to pre­sume you are already famil­i­ar with Lawrence of Arabia and will be camp­ing out overnight to see the the only two screen­ings of the – reportedly – mag­ni­fi­cent 4k res­tor­a­tion and instead I'll take a look at a couple of docos and a couple of oth­er features.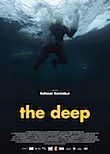 I was a little snarky towards the NZFF on Twitter when they announced that Baltasar Kormákur's The Deep was going to play. After all, the last film of his that loc­al audi­ences got to see was the woe­ful Contraband star­ring Mark Wahlberg. It turns out that was a Hollywood remake of an already suc­cess­ful Icelandic thrill­er that Mr. Kormákur pro­duced and very likely his director's fee made The Deep pos­sible. So, snark withdrawn.