For years I've been com­plain­ing about films that give audi­ences everything on a plate – they tell what you should be think­ing and feel­ing, leav­ing no room for us. This week I have noth­ing to com­plain about as three out of our four make you work for your rewards (although three tough emo­tioanl and intel­lec­tu­al workouts in one week­end turns out to be pretty draining).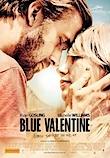 Derek Cianfrance's Blue Valentine is a ter­rif­ic indie achieve­ment, brave and uncom­prom­ising, emo­tion­ally raw but intel­li­gent at the same time. A rela­tion­ship is born and a rela­tion­ship dies. Bookends of the same nar­rat­ive are clev­erly inter­cut to amp­li­fy the tragedy (and tragedy is a fair word to use – there's a beau­ti­ful child get­ting hurt in the middle of all of this).
Dean (Ryan Gosling) and Cindy (Michelle Williams) meet and fall in love. He's a dro­pout start­ing again in New York. She's a med stu­dent with an unhappy home life and a douchebag boy­friend. Five or six years later she's a nurse try­ing not to think about unful­filled poten­tial and he's a house paint­er who drinks too much.