For years I've been complaining about films that give audiences everything on a plate — they tell what you should be thinking and feeling, leaving no room for us. This week I have nothing to complain about as three out of our four make you work for your rewards (although three tough emotioanl and intellectual workouts in one weekend turns out to be pretty draining).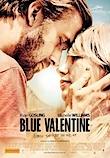 Derek Cianfrance's Blue Valentine is a terrific indie achievement, brave and uncompromising, emotionally raw but intelligent at the same time. A relationship is born and a relationship dies. Bookends of the same narrative are cleverly intercut to amplify the tragedy (and tragedy is a fair word to use — there's a beautiful child getting hurt in the middle of all of this).
Dean (Ryan Gosling) and Cindy (Michelle Williams) meet and fall in love. He's a dropout starting again in New York. She's a med student with an unhappy home life and a douchebag boyfriend. Five or six years later she's a nurse trying not to think about unfulfilled potential and he's a house painter who drinks too much.
In scene after scene of (often improvised) friction it becomes clear that these two aren't meant to be together, can no longer talk to each other (or hear each other) and yet we are continually reminded about the promise they showed back at the beginning of their relationship. Blue Valentine is not a film to watch on a first date.
Both actors are brave and determined and skillfully portray the differences between their older and younger selves. Williams shows that she is now belongs in the very first rank and Gosling proves once again (to this reviewer) that he is the natural successor to the protean De Niro.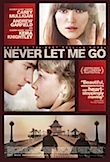 Adapted from a novel by Kazuo Ishiguro, Never Let Me Go has taken it's its time getting to us but is well worth the wait. Set in a subtly parallel universe where medical science now prolongs life well beyond our own current expectations, three children meet at a mysterious boarding school and become friends for life. The school, presided over by chilly Charlotte Rampling, is preparing these children for a special purpose — but what is it?
I'm tiptoeing around the central idea because it's better to experience this film with as little preconception as possible. Suffice to say that when the children turn into adults (Carey Mulligan from An Education, Andrew Garfield from The Social Network and the often under-appreciated Keira Knightley) they will have to come to terms with their destiny — and the many losses it will bring.
Like The Social Network's David Fincher, director Mark Romanek is a graduate of the Madonna-video academy of filmmaking but he shows a sensitive touch throughout. In fact, the film is wonderfully gentle and often exquisite. Production and costume design (not something I mention too often in these pages); Rachel Portman's score; even the closing titles, all demonstrate excellent taste.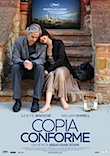 While the first two films this week are emotionally powerful, Abbas Kiarostami's Certified Copy is an intellectual workout. At the screening I attended several people walked out complaining noisily that it was the most boring film they'd ever been asked to sit through. Well, that's their prerogative I guess but they missed out on something fascinating and rewarding.
An English academic (opera star William Shimell) is promoting a book in the beautiful Tuscan town of Arezzo. A French woman (Juliette Binoche) invites him to spend a day with her and they wander around museums and coffee shops talking — a lot. But something is up. It seems as if we are watching an entire fifteen year relationship (with all its ups and downs) play itself out in the space of a day. Are these two a role-playing (for some reason) married couple? Are we even meant to take what we are seeing literally or it is the film an impressionistic interpretation of the meandering path a relationship can take?
On their walk the couple get advice from people they meet — advice about keeping a long-term relationship alive (advice the couple from Blue Valentine could use but would never hear) — and it's fascinating advice. Sometimes being authentic isn't necessary. Sometimes in a relationship you just have to be a facsimile of the best version of yourself — hence the "Certified Copy" of the title.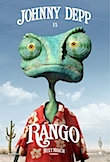 Finally a brief word about Rango — a splendid family film featuring the best digital animation I have ever seen. Johnny Depp is the voice of Rango, a pet chameleon (better looking than the real-life Mr Depp these days) lost in the Mojave desert. He finds a Western town populated with critters of all shapes and sizes and reinvents himself as the meanest hombre west of the pecos, a gunslinger who can bring order to a town on the edge. The water supply is diminishing rapidly and citizens are turning against each other.
Featuring plenty of sly movie references (including a few to Mr Depp's own oeuvre), Rango may have been the first Western that many youngsters in the audience will have ever seen. I wonder whether it worked on them like it did on a wizened old cinephile like myself.
Printed in Wellington's Capital Times on Wednesday 16 March, 2011.
If ever there was a week where I feel the squeeze of the word count this is it. Each of these films deserves more than I was able to give them.