For years I've been com­plain­ing about films that give audi­ences everything on a plate – they tell what you should be think­ing and feel­ing, leav­ing no room for us. This week I have noth­ing to com­plain about as three out of our four make you work for your rewards (although three tough emo­tioanl and intel­lec­tu­al workouts in one week­end turns out to be pretty draining).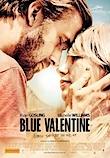 Derek Cianfrance's Blue Valentine is a ter­rif­ic indie achieve­ment, brave and uncom­prom­ising, emo­tion­ally raw but intel­li­gent at the same time. A rela­tion­ship is born and a rela­tion­ship dies. Bookends of the same nar­rat­ive are clev­erly inter­cut to amp­li­fy the tragedy (and tragedy is a fair word to use – there's a beau­ti­ful child get­ting hurt in the middle of all of this).
Dean (Ryan Gosling) and Cindy (Michelle Williams) meet and fall in love. He's a dro­pout start­ing again in New York. She's a med stu­dent with an unhappy home life and a douchebag boy­friend. Five or six years later she's a nurse try­ing not to think about unful­filled poten­tial and he's a house paint­er who drinks too much.
In scene after scene of (often impro­vised) fric­tion it becomes clear that these two aren't meant to be togeth­er, can no longer talk to each oth­er (or hear each oth­er) and yet we are con­tinu­ally reminded about the prom­ise they showed back at the begin­ning of their rela­tion­ship. Blue Valentine is not a film to watch on a first date.
Both act­ors are brave and determ­ined and skill­fully por­tray the dif­fer­ences between their older and young­er selves. Williams shows that she is now belongs in the very first rank and Gosling proves once again (to this review­er) that he is the nat­ur­al suc­cessor to the pro­tean De Niro.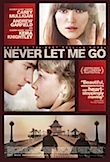 Adapted from a nov­el by Kazuo Ishiguro, Never Let Me Go has taken it's its time get­ting to us but is well worth the wait. Set in a subtly par­al­lel uni­verse where med­ic­al sci­ence now pro­longs life well bey­ond our own cur­rent expect­a­tions, three chil­dren meet at a mys­ter­i­ous board­ing school and become friends for life. The school, presided over by chilly Charlotte Rampling, is pre­par­ing these chil­dren for a spe­cial pur­pose – but what is it?
I'm tip­toe­ing around the cent­ral idea because it's bet­ter to exper­i­ence this film with as little pre­con­cep­tion as pos­sible. Suffice to say that when the chil­dren turn into adults (Carey Mulligan from An Education, Andrew Garfield from The Social Network and the often under-appreciated Keira Knightley) they will have to come to terms with their des­tiny – and the many losses it will bring.
Like The Social Network's David Fincher, dir­ect­or Mark Romanek is a gradu­ate of the Madonna-video academy of film­mak­ing but he shows a sens­it­ive touch through­out. In fact, the film is won­der­fully gentle and often exquis­ite. Production and cos­tume design (not some­thing I men­tion too often in these pages); Rachel Portman's score; even the clos­ing titles, all demon­strate excel­lent taste.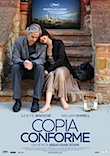 While the first two films this week are emo­tion­ally power­ful, Abbas Kiarostami's Certified Copy is an intel­lec­tu­al workout. At the screen­ing I atten­ded sev­er­al people walked out com­plain­ing nois­ily that it was the most bor­ing film they'd ever been asked to sit through. Well, that's their prerog­at­ive I guess but they missed out on some­thing fas­cin­at­ing and rewarding.
An English aca­dem­ic (opera star William Shimell) is pro­mot­ing a book in the beau­ti­ful Tuscan town of Arezzo. A French woman (Juliette Binoche) invites him to spend a day with her and they wander around museums and cof­fee shops talk­ing – a lot. But some­thing is up. It seems as if we are watch­ing an entire fif­teen year rela­tion­ship (with all its ups and downs) play itself out in the space of a day. Are these two a role-playing (for some reas­on) mar­ried couple? Are we even meant to take what we are see­ing lit­er­ally or it is the film an impres­sion­ist­ic inter­pret­a­tion of the mean­der­ing path a rela­tion­ship can take?
On their walk the couple get advice from people they meet – advice about keep­ing a long-term rela­tion­ship alive (advice the couple from Blue Valentine could use but would nev­er hear) – and it's fas­cin­at­ing advice. Sometimes being authen­t­ic isn't neces­sary. Sometimes in a rela­tion­ship you just have to be a fac­sim­ile of the best ver­sion of your­self – hence the "Certified Copy" of the title.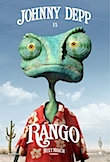 Finally a brief word about Rango – a splen­did fam­ily film fea­tur­ing the best digit­al anim­a­tion I have ever seen. Johnny Depp is the voice of Rango, a pet chamele­on (bet­ter look­ing than the real-life Mr Depp these days) lost in the Mojave desert. He finds a Western town pop­u­lated with crit­ters of all shapes and sizes and rein­vents him­self as the mean­est hombre west of the pecos, a gun­slinger who can bring order to a town on the edge. The water sup­ply is dimin­ish­ing rap­idly and cit­izens are turn­ing against each other.
Featuring plenty of sly movie ref­er­ences (includ­ing a few to Mr Depp's own oeuvre), Rango may have been the first Western that many young­sters in the audi­ence will have ever seen. I won­der wheth­er it worked on them like it did on a wizened old cinephile like myself.
Printed in Wellington's Capital Times on Wednesday 16 March, 2011.
If ever there was a week where I feel the squeeze of the word count this is it. Each of these films deserves more than I was able to give them.