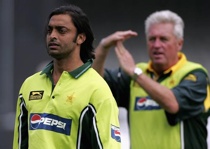 Michael Vaughan, at a press conference ahead of England's final pool match against Kenya (today's Guardian):
Do I think the problem persists? That is a hard question," he said, "and if I'm honest I have to say yes, maybe it does go on. I have never experienced it within any of my teams or with any player I've played with or against but my gut feeling is that there is still something going on in the game. Nothing specific but just bad things that I've seen with certain passages of play or games that look slightly unusual. My gut feeling, and this is a huge statement I know, is that it is very hard to clear the whole world of cricket of it.
Mike Selvey comments:
…for me there still lurks doubt that all is not well in every case — nothing to put your finger on, but as with Vaughan just a nagging notion that all is not entirely well for no better reason than the pessimistic one that it can't be — and I just wonder now how much that impacts on spectators and followers of the game now. Here is an analogy. There was once no finer sight in sport than an Olympic 100metres final. I've never seen one live but my father went to Rome in 1960 and told me of how the German sprinter Armin Hary outstripped the favoured Americans to take the title. Today, is there anyone who watches the event without regarding it as having about as much probity as World Federation Wrestling? It is a novelty show, which of course does a total disservice to those athletes who are determined to play the sport clean.

Cynics suspect malpractice everywhere, so even excellence through genuine endeavour alone, particularly if it involves improvement beyond the norm, is regarded with suspicion. But the consensus surrounding athletes and drugs seems to be that improved testing procedures have not eradicated the problem but merely has led to more sophisticated masking techniques. Our "gut instinct" tells us no longer to believe the evidence of our eyes.

And so it is with cricket and match fixing. The ACSU can scrutinise their matches all they like and monitor betting patterns on the subcontinent. These are skilled people with strong forensic backgrounds. But they are not cricketers. it takes a Vaughan, with what he calls his "gut instinct" but which in reality is accumulated intelligence, to spot the counterfeit coin amongst the stack of change.
I'm sitting here with tears in my eyes, and it's not just because of the rotten cold that has confined me to quarters for the duration. This year New Zealand look like genuine contenders and the upsets have removed a few of our usual stumbling blocks (Pakistan have turfed us out twice in the last four tournaments). As I said to Jeremy Anderson yesterday, we look increasingly like possible winners this time around but the shadow cast by Woolmer's murder means it will probably be a hollow victory and that's a crying shame.