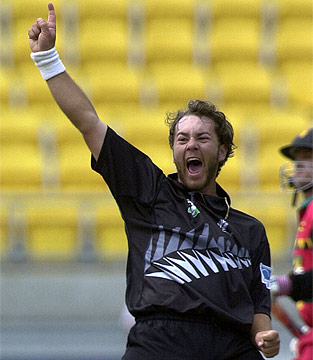 Let me take a moment to salute one of the great enter­tain­ers of the mod­ern game, Craig McMillan who has announced his retire­ment from all cricket.
McMillan launched him­self on the inter­na­tion­al scene in 1997 by hit­ting Shane Warne back over his head in the first over of his first test innings and nev­er took a back­ward step again dur­ing an inter­na­tion­al career that saw him score nearly 8,000 runs and take 77 wickets.
McMillan has cited health reas­ons as the primary cause of his retire­ment and he has always struggled with the debil­it­at­ing effects of dia­betes, often leav­ing the field for treat­ment and suf­fer­ing cramps and strains. Keeping a con­stant blood sug­ar level in the tough envir­on­ment of inter­na­tion­al crick­et (incess­ant tour­ing, hot weath­er, etc) must have been a chal­lenge and his struggle to con­trol his weight in recent years is test­amant to those difficulties.
I think, also, that McMillan's prob­lems with con­cen­tra­tion (the "rush of blood to the head") that pre­ven­ted him from achiev­ing all that his tal­ent and con­fid­ence allows can pos­sibly be blamed on his med­ic­al condition.
In any case, his enthu­si­asm will be missed; his com­mit­ment to the cause no mat­ter what state the game; and his genu­ine enjoy­ment at being out on the park. Tonight I'll raise a cup of tea to McMillanus – bowl­er of boun­cers and hit­ter of sixes.