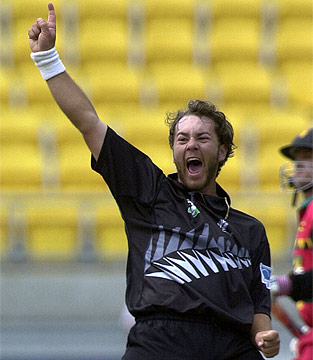 Let me take a moment to salute one of the great entertainers of the modern game, Craig McMillan who has announced his retirement from all cricket.
McMillan launched himself on the international scene in 1997 by hitting Shane Warne back over his head in the first over of his first test innings and never took a backward step again during an international career that saw him score nearly 8,000 runs and take 77 wickets.
McMillan has cited health reasons as the primary cause of his retirement and he has always struggled with the debilitating effects of diabetes, often leaving the field for treatment and suffering cramps and strains. Keeping a constant blood sugar level in the tough environment of international cricket (incessant touring, hot weather, etc) must have been a challenge and his struggle to control his weight in recent years is testamant to those difficulties.
I think, also, that McMillan's problems with concentration (the "rush of blood to the head") that prevented him from achieving all that his talent and confidence allows can possibly be blamed on his medical condition.
In any case, his enthusiasm will be missed; his commitment to the cause no matter what state the game; and his genuine enjoyment at being out on the park. Tonight I'll raise a cup of tea to McMillanus — bowler of bouncers and hitter of sixes.