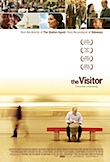 While the Bond 22 juggernaut threatens to crush everything in it's path, a couple of plucky little indies try and offer a wholesome alternative (and stay out of harm's way in the process). Thomas McCarthy's The Visitor occupies similar thematic ground to his debut The Station Agent in 2004, but unfurls in altogether less whimsical fashion.
Richard Jenkins plays Walter Vale, a depressed economics professor, fumbling around for some remaining connection to his recently deceased wife (he's learning to play her piano which is a strikingly futile pursuit for a man in his 50s). Against his wishes he is sent to New York to present a paper he hasn't written to a conference he has no interest in and he reluctantly has to return to the old apartment he and his wife used to share. Only now it's occupied by a young illegal immigrant couple who are as surprised to see him as he is to see them — they've been conned into thinking it was vacant.
With much apology they pack up and leave but when Vale realises they have nowhere else to go he calls them back to let them stay. And so begins a lovely relationship and a hugely rewarding film, a film that never settles for cliché when (with just a little bit of extra digging) it can find some truth. When laid back drummer Tarek (winningly played by Haaz Sleiman) is arrested and slapped in detention pending deportation, The Visitor effortlessly changes tone and Vale finds someone to care for (and about) once again. One of the films of the year.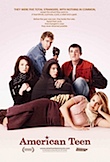 American Teen is nominally a documentary but could just as easily be filed in the horror section. An insincere little film about a cross-section of mid-Western American youth in the town of Warsaw, Indiana (a town which appears to have a value system as shallow as the gene pool that's produced its next generation) American Teen initially provokes nothing so much as despair but eventually wrestles you into submission.
The five central characters are archetypes (the Geek, the Prom Queen, the Jock, the Heartthrob and the Rebel) that slowly emerge as real people despite enduring some tackily manipulative storytelling (not to mention some colossally bad parenting).
Of course, the pressures on these kids are all real — the pressure to be popular or successful, rather than simply be happy — but life wouldn't have been nearly so complicated if they weren't all wandering around with radio mics sharing every whispered secret with the world. Someone should have had a word with these kids about boundaries.
Printed in Wellington's Capital Times on Wednesday 3 December, 2008.
Notes on screening conditions: American Teen was screened at the Paramount, in the big auditorium, and was pin sharp at the correct aspect ratio of 1.85:1. It looks like the Paramount's problems with focus and brightness relate to 'scope only (and possibly only one of the two projectors).