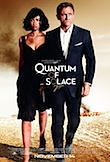 After destroying much of Venice in the climax to Casino Royale, Daniel Craig as 007 James Bond kicks off Quantum of Solace by having a damn good crack at beautiful renaissance Siena. Picking up almost immediately after he left off following the death of his beloved Vesper, Bond is charging around the world seeking answers and revenge (in no particular order).
Prior viewing of Casino Royale is pretty much mandatory in order to fully appreciate Eon EON & Craig's textbook reinvention of the enigmatic, brutalised, middle-class orphan (with the public school scholarship education) who found a family in the Special Forces and a purpose in life 'on her majesty's secret service'. Thankfully Craig has discovered a little sense of humour in the interim but this isn't a film with time for much reflection.
QoS improves on Casino Royale in a few areas — the production design is as good as any Bond since You Only Live Twice — but if it suffers at all it's a seeming lack of anything significant at stake. I'm sure Connery or Moore might have turned their noses up at Bond risking life and limb to save the Bolivian water supply and, while played well enough by The Diving Bell and The Butterfly's Mathieu Amalric, our villain is a little bland. I wonder whether Lloyd Morrison of Infratil ever dreamed that his profession of global infrastructure investor might one day see him ranked as a potential Bond villain.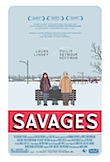 Recent American indie films like Smart People and The Squid and The Whale have had an unfortunate tendency to indulge in some pretty snide anti-intellectualism at times and Tamara Jenkins' second feature, The Savages, is sadly no exception. Philip Seymour Hoffman and Laura Linney play middle-aged siblings: he is a Theatre Arts Professor and she is a failed playwright. Of course, they're self-involved and insensitive — both to each other and to their dying father (Philip Bosco) whose dementia requires constant care and attention.
They bicker over him, each other, their careers and their lost youth, eventually coming to a kind of reckoning that might look like happiness or contentment if you squint a little. Witty, poignant and played to the level you would expect from two of our top screen actors, The Savages would be a very fine film if only it hadn't taken so many shortcuts.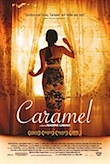 Films have been returning from the Festival in a flurry in recent weeks and the latest is Caramel, an easy-paced picture from Lebanon about several generations of Beirut women and their lives around a run-down beauty parlour. Stories about how hard it is to be a woman and how feckless and useless most men are never seem to get old and this is a decent enough example. Made with a genuine love for Beirut (and its many challenges) there are plenty of sly laughs on offer as it meanders its way through a sleepy hour and a half.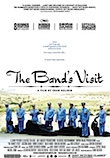 Meanwhile, 300km away (and it pleases me to think simultaneously), an Egyptian Police Orchestra arrives in Israel to give a concert. Unfortunately, there is no one to meet them at the airport and an understandable pronunciation mixup sees them take the bus to the wrong dead-end town where they are stranded overnight in their bright blue Egyptian police uniforms. No one in sleepy Bet Atikva seems too pleased to see them and it looks like their leader, Tawfiq (Sasson Gabai) learnt his leadership skills from Captain Mainwaring from Dad's Army.
The Band's Visit is as dry as the Negev Desert they find themselves in, a character-driven masterpiece of understatement. Isn't this what life is? A series of wrong turns rationalised after the fact, mostly for the best.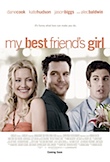 My companion had very low expectations of My Best Friend's Girl and, thus, was not too disappointed. I however, was expecting more and got less. So it goes. A misanthropic romantic comedy with enough foul language and sexual suggestion to earn an R rating, it's a film that is strangely prudish about actually sexual situations.
Wooden stand-up comic Dane Cook plays The Tank, a professional bad date. His job is to go out with recently single women and be such poor company that these poor creatures will go running back to the boyfriends they just dumped.
What might have been a promising scenario is played out with such nastiness and venom that several moments are really uncomfortable to watch. My Best Friend's Girl is lazy misogyny masquerading as a kind of racy free spirit and a quick glance at the credits reveals that of all the key creatives involved (including no less than eleven producers) none of them are women.
Printed in Wellington's Capital Times on Wednesday 26 November, 2008.