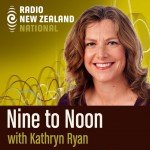 Followers of the Twitter feed (and "friends" on Facebook) will have been alerted to the fact that I am the new regular film reviewer on Radio New Zealand National's Nine to Noon programme, hosted for many years by the estimable Kathryn Ryan. I've been a fill-in on that show — and several others — for a few years now and I was thrilled when I got the call asking me to get my boots on and start warming up for a place in the first team.
Appearances are fortnightly and I can't promise that regular Cinematica listeners won't hear the occasional bit of repeated material. I'm only human, after all. For those that haven't heard the slot before, here is the item from October 10.
I'll be back in the studio on Thursday to talk about Captain Phillips and Beyond the Edge 3D — on air from about 11.50am.