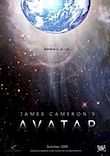 According to The Hollywood Reporter, 20th Century Fox have pushed back the proposed release date for James Cameron's Avatar from Memorial Day 2009 (which is June 22) to December 18 2009. That's a six month delay. Fox are giving availability of 3D screens and extra time for Weta to do a bang-up job on the techy stuff as the reason for the delay.
But the fact that the live-action shoot in Wellington is proving to be a challenge with 18 hour days being the norm plus Cameron's history of going over schedule and over budget on Titanic – it won't have anything to do with that at all. I have one staff member who was booked for three days work as a featured extra and that call has turned into 15 days, and may still go longer.
Black Magic has more on the Avatar shoot including some behind-the-scenes material.