This past week may have been the most consistently satisfying week of cinema-going since I started this journey with you back in 2006: seven very different films, all with something to offer. And no turkeys this week, so I'll have to put the acid away until next week.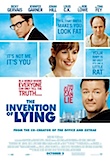 In completely arbitrary order (of viewing in fact), let's take a look at them. In The Invention of Lying British comic Ricky Gervais directs his first big screen film (working without the creative support of usual partner Stephen Merchant) and it turns out to be a little bit more ambitious than most Hollywood rom-coms. In a world where no one has any conception of "untruth", where the entire population makes each other miserable by saying exactly how they feel all the time and where there is no storytelling or fiction to give people an escape, Gervais' character discovers he has the ability to say things that aren't true and is treated as a Messiah-figure as a result. Everything he says, no matter how outlandish, is believed but he still can't win the love of the beautiful Jennifer Garner.
Gervais is solidly funny throughout, and demonstrates even more of the depth as an actor that he hinted at in Ghost Town last year, but the direction is uneven – perhaps because both Gervais and co-writer-director Matthew Robinson are first-timers.