Today, at the Virginia Theater in Urbana Ill., a few thousand cinephiles and Ebert-olytes are gathering for the first day of the 15th Ebertfest, formerly known as Roger Ebert's Overlooked Film Festival. I should be with them — I even bought a pass back in November last year — but a change of job meant no annual leave and no money for the flight. Normally, I would just say, "there'll always be next year" but with Mr. Ebert's recent passing I don't know if that will be true.
Instead, we turn our attention to local events and there's plenty to keep us entertained on top of all the new commercial releases. For a start, the new NZFF Autumn Events initiative — replacing the much-loved (by me) World Cinema Showcase — gets under way today and the festival organisation were good enough to slip me a few screeners so I could tip you off about some of the less-heralded titles. So, I'm going to presume you are already familiar with Lawrence of Arabia and will be camping out overnight to see the the only two screenings of the — reportedly — magnificent 4k restoration and instead I'll take a look at a couple of docos and a couple of other features.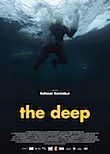 I was a little snarky towards the NZFF on Twitter when they announced that Baltasar Kormákur's The Deep was going to play. After all, the last film of his that local audiences got to see was the woeful Contraband starring Mark Wahlberg. It turns out that was a Hollywood remake of an already successful Icelandic thriller that Mr. Kormákur produced and very likely his director's fee made The Deep possible. So, snark withdrawn.