After the unusual occurrence last week of actually liking everything, regular readers will be reassured that normal nit-picking service is resumed this week.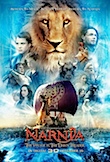 Firstly, The Chronicles of Narnia: The Voyage of the Dawn Treader, the third in the series of big budget adaptations of CS Lewis' beloved allegories (and the first to screen in 3D). Roughly three years after the last film ended two of our heroic child-royals are returned to Narnia via a magic oil painting of a ship at sea.
Edmund (Skandar Keynes), Lucy (Georgie Henley) and their annoying cousin Eustace (played with gusto by young Will Poulter) arrive in Narnia to join the Dawn Treader on a search for the seven lords (and seven swords) who will finally unite all the warring countries and bring peace, etc., etc. All is much as you would expect from the previous installments, apart from the fact that Caspian (Ben Barnes) has lost that annoying vaguely Mediterranean accent and the talking mouse Reepicheep now sounds like Simon Pegg instead of Eddie Izzard.