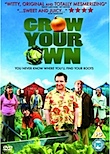 The allotment is one of the United Kingdom's greatest achievements, unrepeated I believe anywhere else. In exchange for moving in to shoeboxes stacked upon each other the British poor were given a back garden somewhere else — a nearby shared field converted into small plots where they could grow some food and still experience something of a life outdoors, connected to the seasons. And who could have guessed that, at the same time, the allotment could also be such an effective metaphor for life in modern England.
In Richard Laxton's film Grow Your Own, the spare plots at a Liverpool allotment are being allocated to refugees, to help them adjust to life in their new country and give them something to do during the otherwise long days. The locals, led by ex-cop Big John (Philip Jackson) with the help of his downtrodden son Little John (Eddie Marsan from Happy-Go-Lucky), don't like the idea of their patch being invaded by "gypos" and turn a cold shoulder to their new neighbours.
When a mobile phone company arrives wanting one of the plots for a new mast the locals see an opportunity to start throwing their weight around. Meanwhile, Chinese refugee Kung Sang (Benedict Wong), broken by the loss of his wife during their journey, discovers a kind of rebirth via the soil and shark fin melon.
Grow Your Own is the best of the three contemporary UK films released in the last month (Happy-Go-Lucky and Brick Lane are the others). An excellent script by Carl Hunter and Frank Cottrell Boyce (24 Hour Party People and Welcome to Sarajevo) contains plenty of diverting comic moments while never losing sight of the human stories unfolding close at hand, reminding us that Social Workers may well be the heroes of the 21st century.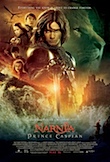 The strengths of Grow Your Own (good characters with story developments driven out of those characters, or rather the character of those characters if I may) can also be found in The Chronicles of Narnia: Prince Caspian, the excellent sequel to The Lion, The Witch and The Wardrobe from 2005. It helps that CS Lewis knew what he was doing when he wrote the books but there's something very satisfying about seeing a story moved forward, seemingly inevitably, by the nature of the characters. Peter's pride, Lucy's faith, Edmund's ADD and Susan's hormones all play a part in either getting the children in to or out of trouble as they return to Narnia after a year in Finchley.
1300 years of Narnia time after they left they have been summoned back by Susan's magic horn, now in the possession of young Prince Caspian (Ben Barnes). Caspian is the rightful heir to the Telmarine throne but his Uncle (King Miraz, played superbly by Italian favourite Sergio Castellitto) wants him out of the way. To make things worse, the Telmarines don't even belong in Narnia but are fascist invaders who have forced the talking animals and mythical creatures into hiding. Aslan, as you might expect, is nowhere to be found.
Caspian chugs along at an excellent pace and the whole thing is sprinkled with plenty of wit. The casting is superb: Castellitto as I have already mentioned; Peter Dinklage must be sick of playing dwarves but he won't find a better one than Trumpkin; Eddie Izzard is the voice of the very amusing Reepicheep, mouse musketeer, and I just loved Trufflehunter the badger (Ken Stott).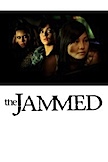 Australian thriller The Jammed is a tightly-wound piece of work about people-trafficking and prostitution in present day Melbourne. Not quite as spiritually desolating as the similar Lilya 4‑ever, it still effectively mines the same rage. Through a series of (possibly unlikely) coincidences, young office worker Ashley (Veronica Sywak) is helping a Chinese woman find her missing daughter. The trail leads to an illegal brothel where "Rose" (Anna Anderson), strung out on drugs, shares a room with "Crystal" (Emma Lung) and Vanya (Saskia Burmeister), all of whom have been conned, trafficked into Australia and then kept out of sight of all except clients and bosses.
If the film is correct, and these people are treated not as victims of a heinous human rights violation but as illegal immigrants and locked away in detention centres, then it is another stain on Australia's record and I hope it isn't true.
Finally this week, tickets for the 36th Wellington Film Festival went on sale Tuesday and the programme was launched last week with a screening of Marjane Satrapis' excellent animated autobiography, Persepolis, about growing up either side of the Iranian Islamic revolution. Recommended.
Printed in Wellington's Capital Times on Wednesday 25 June, 2008.
I have linked to it, above, but would like to draw your attention to NZ playwright Gary Henderson's 2002 interview with Frank Cottrell Boyce, conducted while both were at the Cannes Film Festival.