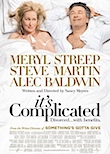 The first thing you need to know about It's Complicated is that it isn't very com­plic­ated at all. The plot, the char­ac­ters, the gags (dear God, espe­cially the gags) are all per­fectly com­pre­hens­ible – even to those of us with only mod­est intel­lec­tu­al fac­ulties. Rest assured, at no point will any­one be talk­ing over your head in this one.
Nancy Meyer's pre­vi­ous film was The Holiday, which eas­ily remains in the bot­tom ten of the 1200+ films I have reviewed in these pages, so It's Complicated earns a single point for not being that bad, but that's where I run out of positives.
Meryl Streep plays Jane, suc­cess­ful baker and busi­ness­wo­man, who has a drunk­en one-night-stand with her rogue-ish ex-husband, played by Alec Baldwin. He thinks that they should try again. She isn't so sure – mainly because he is now mar­ried to the woman he left her for ten years earli­er and she really doesn't want to be the "oth­er woman" to the "oth­er woman".