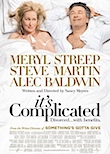 The first thing you need to know about It's Complicated is that it isn't very complicated at all. The plot, the characters, the gags (dear God, especially the gags) are all perfectly comprehensible — even to those of us with only modest intellectual faculties. Rest assured, at no point will anyone be talking over your head in this one.
Nancy Meyer's previous film was The Holiday, which easily remains in the bottom ten of the 1200+ films I have reviewed in these pages, so It's Complicated earns a single point for not being that bad, but that's where I run out of positives.
Meryl Streep plays Jane, successful baker and businesswoman, who has a drunken one-night-stand with her rogue-ish ex-husband, played by Alec Baldwin. He thinks that they should try again. She isn't so sure — mainly because he is now married to the woman he left her for ten years earlier and she really doesn't want to be the "other woman" to the "other woman".
It's at this point that the film loses its somewhat shaky moral bearings and confidently embeds itself in the self-indulgent concerns of the privileged white upper-middle-classes. After complaining for the first third of the film about her husband's hurtful behaviour (and how long it took her to recover) Streep, with barely a moment's hesitation, decides that it's ok to hurt another woman in exactly the same way.
And the film more than implies that this is ok — because the other woman is a crazy, unpredictable, manipulative and fiery latina (Lake Bell) and therefore not someone whose feelings are worth any consideration. Nor are those of her five-year-old son Pedro (Emjay Anthony).
I haven't been so offended by blatant Hollywood racism in a long time. The villains of It's Complicated are the two outsiders — it's no accident that they are non-white – and the whole film says an enormous amount about Meyer's vanilla idea of what constitutes "normal".
Somewhere tucked inside this film is a nugget of something interesting, something about an woman's right to love and romance at any age, or the difficulties of maintaining civil relationships with ex-partners who you still have feelings for, but that core never gets close to being unearthed. Of the scanty pleasures on offer only the genuinely affable chemistry between Streep and Baldwin (and some nice comic work by Away We Go's John Krasinski as the son-in-law) is worth remarking on. Steve Martin, as the under-written third wheel in the supposedly complex arrangement, simply looks bored (or botoxed) by the whole business.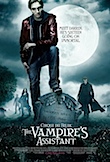 Ever since Harry Potter took flight on that broomstick back in 2001 studios have been trying to find a franchise that can match its extraordinary pulling power. The first requirement is to be based on a book (a built-in fan base); then an ordinary youth thrust into a battle between scarcely comprehensible magical forces that threaten the very existence of humanity. Or at least something like that.
New Line's Twilight series is inching painfully forward (next instalment is in June folks) and 20th Century Fox have their own franchise due for launching next month – Percy Jackson & The Olympians: The Lightning Thief. Meanwhile, Universal have their own version in cinemas now, making no effort to hide that it's only a down payment on another series — Cirque du Freak: The Vampire's Assistant.
Small town goody-two-shoes Darren (Chris Massoglia) and best friend bad boy Steve (Bridge to Terabithia's Josh Hutcherson) sneak out to see a travelling freak show populated by many amazing characters (whose back stories will probably only be revealed if they get to make another film) and become embroiled in a battle between good vampires (who don't kill people) and bad vampires (who do). The longstanding truce is about to be broken and the prophecy must be fulfilled – there's always a prophecy.
Reasonably well cast with good people who don't have enough to do (Willem Dafoe, Patrick Fugit, Ken Watanabe and Salma Hayek), the lead freak is a vampire played with surprising lack of oomph by the usually reliably batty John C. Reilly (Step Brothers, Dewey Cox). He takes the good kid under his wing while the bad one is mentored by an impeccably fat-suited Mr Tiny (Michael Cerveris). Actually, all the effects (costume, creature and digital) are particularly well-done, if a bit too gruesome for little ones.

Finally, something for those littlies: a new-fangled glossy remake of the beloved Japanese anime Astro Boy. Voiced without enthusiasm by Nic Cage, Kristen Bell, Bill Nighy and Freddie Highmore (honourable exception, the great Donald Sutherland as a dodgy war-mongering President), and with drawing standards that are some way short of the Pixar ultimate but still a vast improvement on the tv original, I found the film to be noisy and tiresome. If only I could have got in touch with my inner eight-year-old.
Printed in Wellington's Capital Times on Wednesday 27 January, 2010.