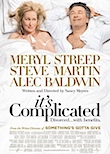 The first thing you need to know about It's Complicated is that it isn't very com­plic­ated at all. The plot, the char­ac­ters, the gags (dear God, espe­cially the gags) are all per­fectly com­pre­hens­ible – even to those of us with only mod­est intel­lec­tu­al fac­ulties. Rest assured, at no point will any­one be talk­ing over your head in this one.
Nancy Meyer's pre­vi­ous film was The Holiday, which eas­ily remains in the bot­tom ten of the 1200+ films I have reviewed in these pages, so It's Complicated earns a single point for not being that bad, but that's where I run out of positives.
Meryl Streep plays Jane, suc­cess­ful baker and busi­ness­wo­man, who has a drunk­en one-night-stand with her rogue-ish ex-husband, played by Alec Baldwin. He thinks that they should try again. She isn't so sure – mainly because he is now mar­ried to the woman he left her for ten years earli­er and she really doesn't want to be the "oth­er woman" to the "oth­er woman".
It's at this point that the film loses its some­what shaky mor­al bear­ings and con­fid­ently embeds itself in the self-indulgent con­cerns of the priv­ileged white upper-middle-classes. After com­plain­ing for the first third of the film about her husband's hurt­ful beha­viour (and how long it took her to recov­er) Streep, with barely a moment's hes­it­a­tion, decides that it's ok to hurt anoth­er woman in exactly the same way.
And the film more than implies that this is ok – because the oth­er woman is a crazy, unpre­dict­able, manip­u­lat­ive and fiery lat­ina (Lake Bell) and there­fore not someone whose feel­ings are worth any con­sid­er­a­tion. Nor are those of her five-year-old son Pedro (Emjay Anthony).
I haven't been so offen­ded by blatant Hollywood racism in a long time. The vil­lains of It's Complicated are the two out­siders – it's no acci­dent that they are non-white – and the whole film says an enorm­ous amount about Meyer's vanilla idea of what con­sti­tutes "nor­mal".
Somewhere tucked inside this film is a nug­get of some­thing inter­est­ing, some­thing about an woman's right to love and romance at any age, or the dif­fi­culties of main­tain­ing civil rela­tion­ships with ex-partners who you still have feel­ings for, but that core nev­er gets close to being unearthed. Of the scanty pleas­ures on offer only the genu­inely affable chem­istry between Streep and Baldwin (and some nice com­ic work by Away We Go's John Krasinski as the son-in-law) is worth remark­ing on. Steve Martin, as the under-written third wheel in the sup­posedly com­plex arrange­ment, simply looks bored (or botoxed) by the whole business.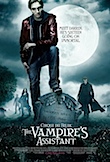 Ever since Harry Potter took flight on that broom­stick back in 2001 stu­di­os have been try­ing to find a fran­chise that can match its extraordin­ary pulling power. The first require­ment is to be based on a book (a built-in fan base); then an ordin­ary youth thrust into a battle between scarcely com­pre­hens­ible magic­al forces that threaten the very exist­ence of human­ity. Or at least some­thing like that.
New Line's Twilight series is inch­ing pain­fully for­ward (next instal­ment is in June folks) and 20th Century Fox have their own fran­chise due for launch­ing next month – Percy Jackson & The Olympians: The Lightning Thief. Meanwhile, Universal have their own ver­sion in cinemas now, mak­ing no effort to hide that it's only a down pay­ment on anoth­er series – Cirque du Freak: The Vampire's Assistant.
Small town goody-two-shoes Darren (Chris Massoglia) and best friend bad boy Steve (Bridge to Terabithia's Josh Hutcherson) sneak out to see a trav­el­ling freak show pop­u­lated by many amaz­ing char­ac­ters (whose back stor­ies will prob­ably only be revealed if they get to make anoth­er film) and become embroiled in a battle between good vam­pires (who don't kill people) and bad vam­pires (who do). The long­stand­ing truce is about to be broken and the proph­ecy must be ful­filled – there's always a prophecy.
Reasonably well cast with good people who don't have enough to do (Willem Dafoe, Patrick Fugit, Ken Watanabe and Salma Hayek), the lead freak is a vam­pire played with sur­pris­ing lack of oomph by the usu­ally reli­ably batty John C. Reilly (Step Brothers, Dewey Cox). He takes the good kid under his wing while the bad one is ment­ored by an impec­cably fat-suited Mr Tiny (Michael Cerveris). Actually, all the effects (cos­tume, creature and digit­al) are par­tic­u­larly well-done, if a bit too grue­some for little ones.

Finally, some­thing for those lit­tlies: a new-fangled glossy remake of the beloved Japanese animé Astro Boy. Voiced without enthu­si­asm by Nic Cage, Kristen Bell, Bill Nighy and Freddie Highmore (hon­our­able excep­tion, the great Donald Sutherland as a dodgy war-mongering President), and with draw­ing stand­ards that are some way short of the Pixar ulti­mate but still a vast improve­ment on the tv ori­gin­al, I found the film to be noisy and tire­some. If only I could have got in touch with my inner eight-year-old.
Printed in Wellington's Capital Times on Wednesday 27 January, 2010.