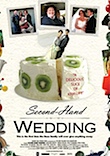 Ah, the perils of reviewing New Zealand cinema in New Zealand – or even tougher – Wellington cinema in Wellington. How does one approach a film that was executive produced by a former mentor, stars former workmates and drinking buddies, was written by a pal, and features familiar faces in almost every scene (and that this reviewer in a moment of flu-addled weakness even auditioned for)?
Luckily for me, Paul Murphy's Second Hand Wedding makes it easy to avoid trespassing across the sensibilities of chums and colleagues by being an adorable confection, easy to praise and a pleasure to recommend. The moment you see a little yellow mini screaming around the Kapiti coast (director Paul Murphy's father Geoff was responsible for Goodbye Pork Pie with Exec Kerry Robins back in 1981) you know you are in good hands and so it proves.
Geraldine Brophy plays Jill Rose, Kapiti's top garage sale expert. Every Saturday morning you'll find her (and best mate Muffy broadly played by Tina Regtien) trawling the nick-nacks looking for bargains. Long-suffering hubby Brian (a lovely and understated performance by Patrick Wilson) puts up with all the new paraphernalia because he has his own collection to maintain: all the pieces of a Model T Ford that will one day become a complete car again.
Local mechanic Stew (a performance by Ryan O'Kane that is, perhaps, lacking in detail) has proposed to the Rose's daughter Cheryl (Holly Shanahan) but, afraid of the bargain basement wedding she fears her mother will provide, she keeps it a secret. When the news breaks, poor Jill is devastated but another tragedy forces the family (and the community) to pull together once again. There's lots to love about Second Hand Wedding: music by Plan 9 and some songs I wouldn't mind owning; classy editing particularly in the montages; perfect, witty production design by Brad Mill; but the heart and soul of the film is Brophy's beautiful and measured performance. If she's not at the front of the queue when the acting awards are handed out for this year I will be very surprised. Indeed, in this reviewer's opinion it may be one the five best New Zealand screen performances ever.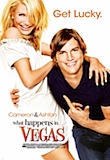 It's slightly depressing to report that a no-budget kiwi comedy contains more subtlety and subtext in any given scene than a multi-million dollar Hollywood blockbuster wrangles in its entirety but it's true. In What Happens in Vegas… Ashton Kutcher and Cameron Diaz play a couple who meet in Las Vegas on their own individual rebound tours, get hopelessly drunk and hopelessly married on the same night, win $3m on the slots and then try and (with the help of scheming best friends Rob Corddry and Lake Bell) cheat the other out of the booty. Forced by grim Judge Whopper (Dennis Miller) to co-habit for 6 months to prove their marriage is real before he will grant them a divorce, our couple do everything in their power to make each other miserable and much (potential but for the most part unrealised) hilarity ensues.
The problem isn't with the fitfully amusing leads (though Kutcher in particular appears incapable of playing the deeper notes that father Treat Williams' paternal disapproval offers him), the film suffers hugely because the script insists on treating us like retards and loudly declaiming everything that it has to say. At one point Kutcher spikes Diaz's smoothy with ecstacy to the sound of "I Want a New Drug". Oh, please. Everything is just so flippin' obvious. Characters say exactly what is in their heads, or exactly what they need to say to move the plot forward, usually both at the same time.
And finally, What Happens in Vegas… should be cursed for indulging in yet another example of Hollywood racism: the only character of colour in the film is a terrible, tight-ass Asian stereotype who is ridiculed relentlessly and mean-ly.
Printed in Wellington's Capital Times on Wednesday 14 May, 2008.
Update: I have added a link to The Cattlestops web site. They were responsible for the songs I wouldn't mind owning.