I got some feed­back on this column the oth­er day. Apparently I "write well" but I "don't like much". Perhaps I am a little jaded after four and a half years in these pages but I am pleased to report that this week­end I saw five films on your behalf and enjoyed all of them. Yes, all of them.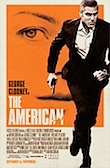 In the first scene of The American, George Clooney does some­thing so un-Clooney-like that audi­ence mem­bers beside me aud­ibly gasped. He plays a hit-man who might be called Jack or Edward but is prob­ably neither.
After nar­rowly escap­ing an attempt on his own life he holes up in pic­tur­esque Castel del Monte in the moun­tains of cent­ral Italy. As a single-minded pro­fes­sion­al with no ties, Jack could be the broth­er of Clooney's cor­por­ate assas­sin in Up in the Air and like that film it takes unex­pec­ted feel­ings for a beau­ti­ful woman to make him real­ise how empty his life is.
Directed by fam­ous pho­to­graph­er Anton Corbijn (The Joshua Tree etc), every frame of The American is lus­cious and per­fectly com­posed, Mr. Clooney makes this stuff look easy and if you're in the mar­ket for a qual­ity Euro-art-house Bourne-type thrill­er then look no further.