I got some feedback on this column the other day. Apparently I "write well" but I "don't like much". Perhaps I am a little jaded after four and a half years in these pages but I am pleased to report that this weekend I saw five films on your behalf and enjoyed all of them. Yes, all of them.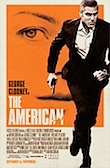 In the first scene of The American, George Clooney does something so un-Clooney-like that audience members beside me audibly gasped. He plays a hit-man who might be called Jack or Edward but is probably neither.
After narrowly escaping an attempt on his own life he holes up in picturesque Castel del Monte in the mountains of central Italy. As a single-minded professional with no ties, Jack could be the brother of Clooney's corporate assassin in Up in the Air and like that film it takes unexpected feelings for a beautiful woman to make him realise how empty his life is.
Directed by famous photographer Anton Corbijn (The Joshua Tree etc), every frame of The American is luscious and perfectly composed, Mr. Clooney makes this stuff look easy and if you're in the market for a quality Euro-art-house Bourne-type thriller then look no further.
In The Disappearance of Alice Creed two criminals execute the perfect kidnapping, only for the plot to unravel when three totally different agendas are set against each other. The twists are unrelenting and often very clever and, once again, budget limitations prove liberating for the right director (J Blakeson). And you can add the wonderful Eddie Marsan (Happy-Go-Lucky) whose face just gets more interesting the older he gets. The digital experience was marred slightly by the Paramount's inability to screen the 2.35:1 ratio correctly.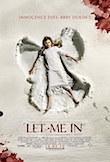 Regular readers might remember that I have tried twice to watch Swedish vampire-thriller Let the Right One In and been defeated by sleep both times. The US remake, Let Me In, (directed with lots of, er, respect for the original by Cloverfield's Matt Reeves) was understandably easier to follow than the version beloved by 2009 Festival audiences but falls a little bit short on atmosphere.
Lonely 12 year old Owen makes friends with the mysterious new neighbour who arrives at around the same time as some locals are found gruesomely murdered. Connected? Ya think? There are strong performances by the two kids (Kodi Smith-McPhee from The Road and Chloe Moretz, Hit Girl from Kick-Ass) and the usual stunning support work from Capital Times favourite Richard Jenkins (The Visitor).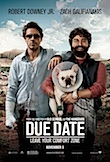 This reviewer was an early champion of Todd Phllips' The Hangover last year, describing it as "the Citizen Kane of 'getting fucked up in Vegas' movies". The follow-up, Due Date, has arrived and, while not reaching the same comedic heights, it's a more rounded film.
Robert Downey Jr. is a tight-ass architect trying to get back to LA for the birth of his first child. The intervention of annoying naïf Zack Gallifianakis gets them both kicked off the flight (and on a no-fly list) so they have to drive across country together.
This kind of broad comedy isn't everyone's cup of tea, of course, but I respect the fact that so much of it comes from character and circumstance rather than just letting actors improvise endlessly and cutting the results together. It's not un-moving too, at times, thanks to the usual quality work from Downey and director Phillips giving Gallifianakis some room to move.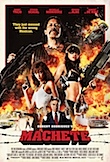 Back in 2007 Roadshow (the distributor) elected not to screen the Tarantino-Rodriguez double-feature Grindhouse even for festivals. That meant that NZ audiences missed out on the lovingly constructed fake trailers that appeared between the two features (Death Proof and Planet Terror). Fans overseas demanded that at least one of those fake trailers be turned into an actual film so now we have Machete, a deliciously violent hymn to the pulp heroes of the 70s — brought bang up to date.
The great Danny Trejo, taciturn and rugged character actor from dozens of B‑movies since his 1985 debut, gets a well-deserved starring role as the former Mexican federale Machete Cortez. After psychopathic drug baron Torrez (Steven Seagal) kills his wife and child he ends up as a down-on-his-luck illegal immigrant, looking for day labouring work in picturesque Austin, Texas. His first offer turns out to be the assassination of an anti-immigration, anti-Mexican State Senator played by Robert De Niro but he soon finds himself double-crossed and on the run.
Everyone involved is having a whale of a time (including Miami Vice's Don Johnson, 80s action star Jeff Fahey and notorious starlet Lindsay Lohan). The violent set-pieces are often very funny indeed — including one with a weed-eater as not-so-deadly weapon — but the film also manages to be a vigorous celebration of Tex-Mex culture as well as a thoughtful essay on America's immigration 'problem'.
Machete goes straight into my top ten for the year (to be unveiled here some time around Christmas) and is an unexpected, wicked pleasure.
Printed in Wellington's Capital Times on Wednesday 1 December, 2010.