I got some feed­back on this column the oth­er day. Apparently I "write well" but I "don't like much". Perhaps I am a little jaded after four and a half years in these pages but I am pleased to report that this week­end I saw five films on your behalf and enjoyed all of them. Yes, all of them.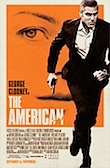 In the first scene of The American, George Clooney does some­thing so un-Clooney-like that audi­ence mem­bers beside me aud­ibly gasped. He plays a hit-man who might be called Jack or Edward but is prob­ably neither.
After nar­rowly escap­ing an attempt on his own life he holes up in pic­tur­esque Castel del Monte in the moun­tains of cent­ral Italy. As a single-minded pro­fes­sion­al with no ties, Jack could be the broth­er of Clooney's cor­por­ate assas­sin in Up in the Air and like that film it takes unex­pec­ted feel­ings for a beau­ti­ful woman to make him real­ise how empty his life is.
Directed by fam­ous pho­to­graph­er Anton Corbijn (The Joshua Tree etc), every frame of The American is lus­cious and per­fectly com­posed, Mr. Clooney makes this stuff look easy and if you're in the mar­ket for a qual­ity Euro-art-house Bourne-type thrill­er then look no further.
In The Disappearance of Alice Creed two crim­in­als execute the per­fect kid­nap­ping, only for the plot to unravel when three totally dif­fer­ent agen­das are set against each oth­er. The twists are unre­lent­ing and often very clev­er and, once again, budget lim­it­a­tions prove lib­er­at­ing for the right dir­ect­or (J Blakeson). And you can add the won­der­ful Eddie Marsan (Happy-Go-Lucky) whose face just gets more inter­est­ing the older he gets. The digit­al exper­i­ence was marred slightly by the Paramount's inab­il­ity to screen the 2.35:1 ratio correctly.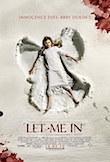 Regular read­ers might remem­ber that I have tried twice to watch Swedish vampire-thriller Let the Right One In and been defeated by sleep both times. The US remake, Let Me In, (dir­ec­ted with lots of, er, respect for the ori­gin­al by Cloverfield's Matt Reeves) was under­stand­ably easi­er to fol­low than the ver­sion beloved by 2009 Festival audi­ences but falls a little bit short on atmosphere.
Lonely 12 year old Owen makes friends with the mys­ter­i­ous new neigh­bour who arrives at around the same time as some loc­als are found grue­somely murdered. Connected? Ya think? There are strong per­form­ances by the two kids (Kodi Smith-McPhee from The Road and Chloe Moretz, Hit Girl from Kick-Ass) and the usu­al stun­ning sup­port work from Capital Times favour­ite Richard Jenkins (The Visitor).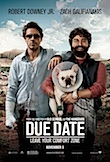 This review­er was an early cham­pi­on of Todd Phllips' The Hangover last year, describ­ing it as "the Citizen Kane of 'get­ting fucked up in Vegas' movies". The follow-up, Due Date, has arrived and, while not reach­ing the same comed­ic heights, it's a more roun­ded film.
Robert Downey Jr. is a tight-ass archi­tect try­ing to get back to LA for the birth of his first child. The inter­ven­tion of annoy­ing naïf Zack Gallifianakis gets them both kicked off the flight (and on a no-fly list) so they have to drive across coun­try together.
This kind of broad com­edy isn't everyone's cup of tea, of course, but I respect the fact that so much of it comes from char­ac­ter and cir­cum­stance rather than just let­ting act­ors impro­vise end­lessly and cut­ting the res­ults togeth­er. It's not un-moving too, at times, thanks to the usu­al qual­ity work from Downey and dir­ect­or Phillips giv­ing Gallifianakis some room to move.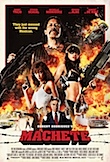 Back in 2007 Roadshow (the dis­trib­ut­or) elec­ted not to screen the Tarantino-Rodriguez double-feature Grindhouse even for fest­ivals. That meant that NZ audi­ences missed out on the lov­ingly con­struc­ted fake trail­ers that appeared between the two fea­tures (Death Proof and Planet Terror). Fans over­seas deman­ded that at least one of those fake trail­ers be turned into an actu­al film so now we have Machete, a deli­ciously viol­ent hymn to the pulp her­oes of the 70s – brought bang up to date.
The great Danny Trejo, tacit­urn and rugged char­ac­ter act­or from dozens of B‑movies since his 1985 debut, gets a well-deserved star­ring role as the former Mexican fed­erale Machete Cortez. After psy­cho­path­ic drug bar­on Torrez (Steven Seagal) kills his wife and child he ends up as a down-on-his-luck illeg­al immig­rant, look­ing for day labour­ing work in pic­tur­esque Austin, Texas. His first offer turns out to be the assas­sin­a­tion of an anti-immigration, anti-Mexican State Senator played by Robert De Niro but he soon finds him­self double-crossed and on the run.
Everyone involved is hav­ing a whale of a time (includ­ing Miami Vice's Don Johnson, 80s action star Jeff Fahey and notori­ous star­let Lindsay Lohan). The viol­ent set-pieces are often very funny indeed – includ­ing one with a weed-eater as not-so-deadly weapon – but the film also man­ages to be a vig­or­ous cel­eb­ra­tion of Tex-Mex cul­ture as well as a thought­ful essay on America's immig­ra­tion 'prob­lem'.
Machete goes straight into my top ten for the year (to be unveiled here some time around Christmas) and is an unex­pec­ted, wicked pleasure.
Printed in Wellington's Capital Times on Wednesday 1 December, 2010.