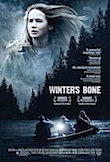 Half way through Winter's Bone I found myself think­ing, "So, this is what the Western has become?" The best Westerns are about find­ing or sus­tain­ing a mor­al path though a law­less fron­ti­er and the fron­ti­er in Winter's Bone is the hid­den world of the rur­al poor and the path is a strange and ter­ri­fy­ing one.
In the rough and remote Ozark Mountains, teen­age Ree Dolly (Jennifer Lawrence) is single-handedly bring­ing up her two young sib­lings while caring for her emo­tion­ally dam­aged moth­er. One cold morn­ing the Sheriff turns up with the news that her fath­er, Jessup, used their house as his bail bond and unless Ree can find him and per­suade him to turn up for Court, the fam­ily will lose everything.
Jessup is (or maybe was) what we would call a 'P' deal­er – the only eco­nomy in the area show­ing any kind of growth. But the com­pany he was keep­ing were the mean­est of the mean and to find her fath­er Ree must ven­ture into dan­ger­ous territory.