Is it too early to suggest that we might be living in a golden age of cinema? Think of the filmmakers working in the commercial realm these days who have distinctive voices, thrilling visual sensibilities, solid intellectual (and often moral) foundations, a passion for combining entertainment with something more — along with an abiding love of cinema in all its strange and wonderful forms.
I'm thinking of the Coens, obviously, but also Peter Jackson (and protégé Neill Blomkamp), Danny Boyle (Slumdog Millionaire), Edgar Wright (Hot Fuzz and the forthcoming Scott Pilgrim), Jason Reitman (Juno and January's Up in the Air), Guillermo Del Toro (working hard on The Hobbit in Miramar), and even Tarantino is still producing the goods. This week we are lucky enough to get new work from two others who should be in that list: Spike Jonze and Steven Soderbergh.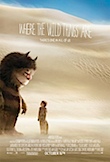 Jonze made his name with oddball stories like Being John Malkovich and Adaptation and the first thing you notice about his interpretation of the beloved Maurice Sendak children's book, Where the Wild Things Are, is that it simply doesn't resemble anything else you've ever seen. With the help of writer Dave Eggers (the novel "A Heartbreaking Work of Staggering Genius", Away We Go) he has used the book as a starting point for a beautiful and sensitive meditation on what it is like to be a child (a boy child specifically).
Disobedient 8‑year-old Max (newcomer Max Records) gets a telling off from his mother (Catherine Keener) and runs away from home. He finds a boat and sails across an ocean to an island containing the Wild Things who crown him as their King. Of course, he discovers that being a King is hard and that home is not such a horrible place after all. That's a lot more plot than the original book offered but I urge you not to get too hung up on comparisons, or to think that this is a film for children. It isn't. Where the Wild Things Are is a film for grown-ups who want to remember what being a child felt like – the adventure, the discovery, the filling in of the huge gaps in your knowledge with the contents of your imagination. It is beautiful and sad and one of my favourite films this year.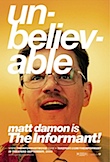 Likely to slip under the radar with so many other fine options available is the prolific Soderbergh's latest, The Informant!, an enormously entertaining tale of an out-of-control corporate fabulist whose capacity for bullshit just digs him into deeper and deeper trouble. Matt Damon is a revelation as the slightly overweight, balding "hero" and New Plymouth's finest acting export Melanie Lynskey again proves she is one of the singular talents on the scene as his devoted wife. This is Soderbergh in his popular Oceans mode rather than his more experimental frame (the evidence of which we rarely see here), but his gifts remain prodigiously on display.
What I love about Soderbergh is that there is no detail too small to deserve the finest attention, no character that can't justify some interesting casting. Even the jazzy score , by Marvin Hamlisch who won an Oscar for The Sting back in Hollywood's last heyday, is the last thing you might expect but turns out to be absolutely perfect.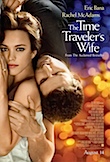 And that is the difference between something special like The Informant! and competent but uninspiring hackwork like The Time Traveller's Wife, directed by Flightplan's Robert Schwentke. Fans of the book might have a greater grip on the detail of the plot than I could sustain as the genetically implausible Eric Bana fades out of his clothes periodically only to materialise in other times and places. With no control of when he leaves or where he goes, he is destined to be forever lonely until he meets beautiful Rachel McAdams who, it turns out, his older self has been wooing since she was a child. Eww.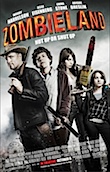 The most memorable sequence in new comedy Zombieland is also the sequence that totally derails the story and, even if it is an entertaining diversion, the film never quite recovers. Frustratingly, I can't tell you what it is though, so you'll have to take my word for it. Otherwise, the repetitive zombie killing by tough guy Woody Harrelson, nerdy Jesse Eisenberg, hot Emma Stone and cute Abigail Breslin is entertaining enough without adding much to a genre that perhaps should be put back in the closet for a while.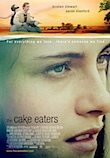 Yes, I know that the list of current greats at the top of the page had no women in it – sadly my experience of films made by women this year is that for all their fine qualities (Christine Jeffs' Sunshine Cleaning, Jane Campion's forthcoming Bright Star), you get the sense that these women aren't yet being given (or seizing) the creative freedom that will really see their work fly. (I offer an honourable exception to Armagan Ballantyne whose The Strength of Water showed evidence of massive potential). Mary Stuart Masterson made her name in the 80s and 90s in films like Some Kind of Wonderful and Fried Green Tomatoes and has used that experience gained as a solid working actor to generate some fine performances directing the modest little drama The Cake Eaters.
Set across a summer weekend in a small town in up country New York, it is an ensemble piece (despite the understandable focus on Twilight's Kristen Stewart) about two intersecting families and the secret relationships between the two. Hollywood legend Bruce Dern was best-known for his intensity back in the day, but his performance here as the widowed patriarch sets a delicate and understated tone that the rest of the cast pick up on. Modest but satisfying.
Printed in Wellington's Capital Times on Wednesday 9 December, 2009.
Notes on screening conditions: Turns out The Cake Eaters was played off a hi-def (720?) PC file using full screen VLC in the Paramount's Bergman room and wasn't too bad. Not film, and not 2K digital, but not bad