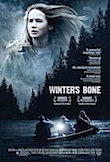 Half way through Winter's Bone I found myself thinking, "So, this is what the Western has become?" The best Westerns are about finding or sustaining a moral path though a lawless frontier and the frontier in Winter's Bone is the hidden world of the rural poor and the path is a strange and terrifying one.
In the rough and remote Ozark Mountains, teenage Ree Dolly (Jennifer Lawrence) is single-handedly bringing up her two young siblings while caring for her emotionally damaged mother. One cold morning the Sheriff turns up with the news that her father, Jessup, used their house as his bail bond and unless Ree can find him and persuade him to turn up for Court, the family will lose everything.
Jessup is (or maybe was) what we would call a 'P' dealer — the only economy in the area showing any kind of growth. But the company he was keeping were the meanest of the mean and to find her father Ree must venture into dangerous territory.
Ree's elemental quest is the core of one of the great films of this year. The poster makes it look like a ghost story — it isn't. It's gritty, earthy, and uncompromising but it's enormously satisfying: how do you keep yourself (and your "self") alive under seemingly intolerable pressures.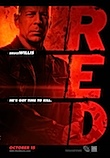 This week's big disappointment is the new Bruce Willis action comedy Red, based on an obscure (at least to me) comic book. Willis plays a retired CIA covert operative, living a quiet life in the suburbs, flirting with the call centre operator who sends him his pension cheque every month (Mary-Louise Parker). When mysterious assassins destroy his house he heads for Kansas City, kidnaps Parker (to save her from his enemies of course) and gathers a motley crew of former spooks to help him get the bad guys.
Director Robert Schwentke has assembled a fantastic cast (including Helen Mirren, Morgan Freeman, John Malkovich, Ernest Borgnine, Brian Cox and Richard Dreyfuss) and then loses all his nerve, leaving them to dog-paddle their way through scenes that have no drive or, what's the word, direction.
Despite the calibre of cast, the best performances are from Parker (who should've been a movie star a long time ago) and Wellingtonian Karl Urban who has learnt from the likes of Bruce that we know a true action hero by how he takes a beating, not by how he dishes one out.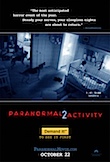 My review of the original Paranormal Activity described it as "garbage, fit only for the credulous and the gullible" and seeing as Paranormal Activity 2 has arrived less than a year after the first, and plays like a remake rather than a sequel, I'll let that first opinion stand.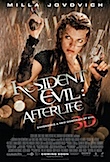 The villains of the Resident Evil franchise are a mysterious multi-national known as the Umbrella Corporation who, after some misguided genetic experiments, inflict a zombie apocalypse on the Earth then disappear to huge underground facilities to work out how to best take advantage of the situation. As every superstitious person knows, opening an umbrella indoors means seven years bad luck but feisty genetically-engineered superwoman Milla Jovovich takes that chance with the help of dozens of equally powerful clones of herself. And that's only the opening scene of Resident Evil: Afterlife, now showing in 2D and (hastily remastered) 3D.
Unlike the previously discussed Red, this Resident Evil cracks along at a decent pace, and unlike the previously discussed Paranormal Activity, builds its tension with plenty of skill and it's cheap shots aren't so cheap.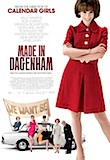 The first key event in Made in Dagenham happened on the day that I was born — only 16 miles away. It's not often I get to say that. The Ford plant in Dagenham, Essex, was the fourth biggest in the world employing over 50,000 men on the production line — and 157 women machinists sewing the trim and seat covers. When Ford reduced the machinist's status from semi-skilled to non-skilled they provoked a reaction that would end up transforming the entire industrialised world. Led by a typically annoying Sally Hawkins (an inexplicable Golden Globe winner for a similarly fussy performance in Happy-Go-Lucky last year), the ladies mobilise, testing the resolve of government, big business and their men.
Incidentally, of the 157 machinists (and all the male workers that we meet, too) all were white. I guess that was a different battle, for another day.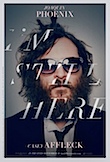 Casey Affleck and Joaquin Phoenix's I'm Still Here is an infinitely more interesting film now it's been confirmed as fiction rather than documentary. Certainly, Phoenix's performance as a crisis-ridden actor attempting to reinvent himself in the music world ("a hip-hop Bohemian Rhapsody" is how he describes his stoned fantasy to an incredulous yet unfailingly polite Sean "Puffy" Combs) is as stupendous an achievement as anything else in his career.
I'm Still Here is brave and insightful and arguably completely self-indulgent. I liked it a lot, despite all the cringing.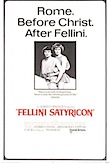 If a poet and his ex-boyfriend have just stolen an albino hermaphrodite oracle from his cave then you're probably watching a Fellini film. Congratulations once again to the Embassy for programming another rarely seen classic, the demented Satyricon from 1969. It's kind of sad to realise that in 40 years cinema has actually got less adventurous and experimental rather than the other way around.
Printed in Wellington's Capital Times on Wednesday 3 November, 2010.
Notes on screening conditions: Winter's Bone was a watermarked screener from the distributor (would like to watch it again in more focused circumstances); Red was at the Empire in Island Bay on a Friday night where the audience managed to talk through most of it like they were sitting at home; likewise Made in Dagenham although at a different time and place (Lighthouse in Petone); Paranormal Activity 2 was at Readings with a whole lot of people inexplicably out on dates; Resident Evil: Afterlife looked acceptable at Readings 2nd digital screen (10) although the film itself looks like a hurried 3D conversion; I'm Not Here should have been digital but was actually a 35mm print in the Brooks at the Paramount and Satyricon was a beaten up release print with a final five minutes that had disintegrated entirely.