Readers of last week's column will know that I am cur­rently over­seas on a quest, a mis­sion – a pur­suit if you prefer – hop­ing to dis­cov­er a new kind of cinema. After a week at the Telluride Film Festival in Colorado I am now in New York and have got a clear­er idea of what that vis­ion should look like.
I think I'll name this new cinema good cinema and it's main char­ac­ter­ist­ic will be the absence of films like Hit and Run and The Watch, two of this week's new releases. Is it pos­sible to redefine rub­bish like this out of existence?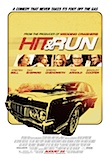 The first is a Dax Shepard van­ity pro­ject about a man choos­ing to give up his place in a dull wit­ness pro­tec­tion pro­gramme so that his girl­friend (Kristen Bell) can get a job in the big city. In the space of a single day his pre­vi­ous iden­tity as a top get­away driver is revealed to her and his new iden­tity as a dreary small-town non-entity is revealed to the dim­wit­ted but single-minded hoods who he rat­ted out.