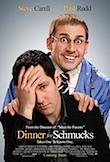 After a week when New Zealand has been forced to confront its own intolerance and social myopia it seems fitting that two films that are essentially about understanding and accepting diversity should arrive in cinemas in the same week. They both take drastically different approaches to the topic, too.
In Dinner for Schmucks, ambitious hedge fund analyst Paul Rudd has to find a guest to take to a monthly senior management party in which unusual people are secretly held up to ridicule. When his Porsche knocks over mild mannered public servant and amateur taxidermist Steve Carell he thinks he's found the right man. But Carell's character, Barry, latches on to him causing mayhem wherever he goes.
Eventually, after Rudd's relationship and career are wrecked, they both reach a deeper understanding of each other and some decent human values: laughing with someone is ok. At someone? Not so much. And if you are anything like me, you will laugh.